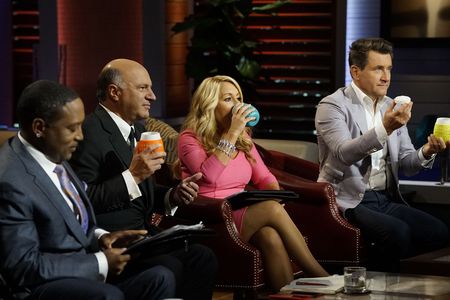 Shark Tank episode 820 features four new businesses that seek an investment from one of the Sharks to help them start, grow, or save their business. Dr. Robert Yonover wants a Shark to come to the rescue when he pitches the See Rescue Streamer, a device that enhances visibility for people lost at sea or in extremely remote wilderness. Don Halpern wants to bag a Shark to invest in Loctote, his anti-theft backpack that's slash-proof, lockable, and has RFID blocking pouches. Southern California Wine Lovers Regan Kelaher and Shannon Zappala hope the Sharks toast to a deal with Goverre, their business that makes durable, portable wine glasses. Steve and Amanda Kuclo have a booty call in the Shark Tank when they pitch Bootyqueen Apparel, their athletic wear line aimed at women with big booties.
Which business lands a Shark tonight?
Back in season seven, Mr. Wonderful invested $80K for 20% of PRX Performance and said he'd take 20% of all sales until he gets paid back. In this episode, we'll see if he got his money back yet and how the weightlifting rack company is doing.
There are 28 Shark Tank Episodes for Season 8. This season features more appearances by Chris Sacca and a host of other surprises. Casting is currently closed, but it never hurts to get a head start on season nine! If you would like to appear on the show, check out our Auditions and Casting information.
Episode 820 – The Shark Investors and Entrepreneurs
The Shark Tank Episode 820 entrepreneurs will make their best pitch to the panel of five Shark investors who will use their own money if they choose to invest. The Shark Investors negotiate on the spot without any previous information, which differs from typical negotiations between venture capital investors and entrepreneurial start-ups.
Companies pitching the Shark Investors must go through a rigorous due diligence process before an on-air deal is completed. Shark Tank Blog follow ups help you keep track of the companies that end up successful and the ones that don't complete their deal.
Thank you for reading SharkTankBlog, the number one site for Entrepreneurs, Investors and Fans. Our content updates multiple times day, giving you the latest information on Episode 820, Season 8, and all other seasons and episodes.
Episode 820 Press Release
Episode 820 (4/21)
FITNESS APPAREL THAT CATERS TO A SPECIAL ASSET, A LOCATION DEVICE THAT COULD MAKE THE DIFFERENCE BETWEEN LIFE AND DEATH, AN ADULT SIPPY CUP FOR DRINKING WINE AND AN INNOVATIVE WAY TO KEEP BELONGINGS SAFE, ON AN ALL-NEW 'SHARK TANK,' AIRING APRIL 21 ON ABC
"Episode 820" – Newlyweds and bodybuilders from Dallas, Texas, married strength with glamour and created a fitness apparel line that caters to the woman who loves building her booty; two friends from San Marcos, California, need the Sharks' help to grow their no-spill, portable and stem-less wine glass business; a Ph.D. scientist and big-wave surfer from Honolulu, Hawaii, invented a rescue signal for people that could make the difference between life and death; and two entrepreneurs from New Albany, Ohio, hope to bag some Sharks into a deal with their unique slash-proof and water-resistant backpacks. Also, a follow-up with Erik Hopperstad and Brian Brasch from Fargo, North Dakota, and their business, PRX Performance, which fits home gym equipment into small spaces, which Kevin O'Leary invested in during season seven, on "Shark Tank," airing FRIDAY, APRIL 21 (9:00-10:01 p.m. EDT), on The ABC Television Network.
The Sharks in this episode are Mark Cuban, Daymond John, Kevin O'Leary, Lori Greiner and Robert Herjavec.