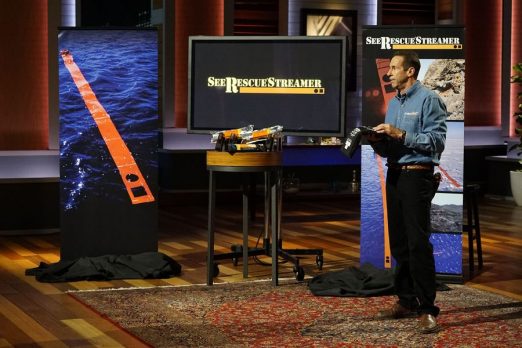 Dr. Robert Yonover hopes a Shark comes to the rescue when he introduces the See Rescue Streamer in Shark Tank episode 820. The See Rescue Streamer is a visibility device boaters and hikers can deploy if they get lost. Essentially, it's a 25 foot long, bright orange streamer that is very visible from the air. Should you be lost, you roll it out and aircraft passing over you will see you. It's used by the military, and now it's available to the public.
Dr. Yonover is a Ph.D. geochemist/volcanologist from Hawaii. When he's not doing deep dives for research, he enjoys fishing off the Hawaiian shores. The See Rescue Streamer isn't his only invention. He invented other patented survival items for military and civilian use: Pocket Floatation technology, Portable Emergency DeSalinator, Video Search and Rescue (vSAR) technology, Inflatable Rescue Board, and the Inflatable Paddleboards used all over the world.
His product saves lives. There are many stories of people lost both on land and at sea where the product allowed them to be seen by rescuers. He got the idea for the Rescue Streamer when he was flying in a small plane with a sputtering engine. He thought "if the plane goes down, I'm a goner." After 11 years, he finally came up with the product and patented it. Now, it's available to anyone with the potential of being lost and in a life threatening situation.
He likely needs a Shark to help with marketing and distribution. Will a Shark come to the rescue and invest in this business?
See Rescue Streamer Shark Tank Recap
Dr. Yonover enters seeking  $200,000 for 20% of his business. Part of his presentation is a photo of a guy lost at sea – you can barely see him. After he makes his pitch, then asks Kevin to help him demonstrate it. Kevin grabs one end and walks down the hallway to extend it. There is reflective material in the fabric that's visible night and day. Next he shows the same guy lost at sea, but with his product. You can't miss him now!
He reveals he's selling them to the military and he has $15 million in lifetime sales. That $15 million was earned over 15 years as part of a licensing deal. He did the deal to care for his wife who has MS. Now the deal is over and he's taking control of the product back.  Sales the current year are $200,000. He hands out samples and says he wants to re-birth the brand and see his product attached to lifejackets.
Daymond thinks the real money is in dealing with the military. He doesn't think he can help with that and goes out. Lori doesn't see it as a commercial product; she's out. Robert sees too many challenges getting into the consumer market; he's out. Mark doesn't see it as investable; he's out. Kevin thinks relaunching would be too much work; he's out too.
See Rescue Streamer Shark Tank Update
The Shark Tank Blog constantly provides updates and follow-ups about entrepreneurs who have appeared on the Shark Tank TV show. Dr. Yonover saw an uptick in sales after his appearance. In 2020, the product was aboard a SpaceX flight to the International Space Station. He continues to supply to military customers worldwide including the US Navy and US Coast Guard. As of November, 2021, the company is still in business with annual revenue of $3.9 million.
Posts About See Rescue Streamer on Shark Tank Blog
SeeRescue Streamer Saves Lives
See Rescue Streamer Company Information
Video