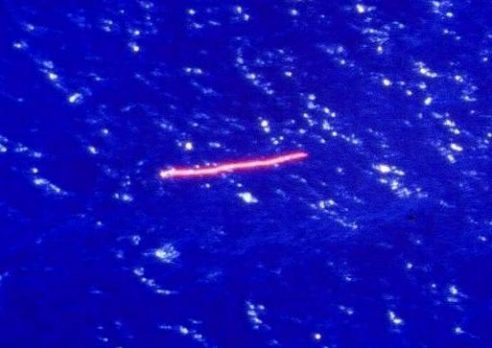 Dr. Robert Yonover created the SeeRescue Streamer for one reason: to save lives. If he makes a few bucks along the way too, that's OK. Basically, the SeeRescue Streamer allows a stranded hiker or boater to be seen by aerial searchers. It's a 25 foot long oranges streamer that says "here I am!"
Yonover is an avid diver, fisherman and explorer who patented other safety devices in the past. He also invented the inflatable paddle board. Most of his other inventions were geared toward military use, but the SeeRescue Streamer is for anyone who recreates outdoors.  Yonover sells it exclusively on Amazon, in case you want one for your next trip.
Any boat needs one. If the boat capsizes or sinks, Yonover's device will be seen. Hikers can use it, too. Unless you can light a signal fire, a passing plane won't see you. He sells a lighted version for night-time visibility, too. If you are going to a remote area on land or sea, Yonover wants his product along for the ride. He's hoping a Shark can help him get the word out when he presents the business in episode 820.
My Take on the SeeRescue Streamer
In my younger days, I did a lot of offshore sailing and wilderness hiking. When hiking, we always had fire building tools with us, so if we got lost or hurt we could stay warm and signal for help. Sailing is a whole different ballgame.
Our boat had a life raft with survival gear, sea dye, and flares. When sailing offshore, we wore life preservers and stayed clipped in to the lifelines. Once, we did a "man overboard drill" before a trip from Boston to Bermuda in a Hans Christian 42. When it took 15 minutes to "rescue" our buoy in the calm waters of Buzzard's Bay, I decided I wasn't going overboard! In rough weather, you'd be dead.
Getting thrown overboard was always a concern, but with a SeeRescue Streamer attached to a life-preserver, it might ease my mind. Flares only last for a few seconds and sea dye fades. The ocean is a big, powerful force I have a lot of respect for. Anything that saves a life is worth having aboard. For that reason, I'm in.
Do Sharks Share Yonover's Vision?
Any rational person sees the value of this product. Whether it's a Shark business is a different story. It's very niche, which always concerns the Sharks. The valuation needs to be big enough for a Shark to look past the "product not a company" objection.
It sells for $80-120, depending on whether it's the lighted or unlighted model. At those prices, I bet the margins are big enough for a Shark to get a good bite, but one thing leads me to believe no deal is done: he sells exclusively on Amazon. A Shark doesn't want Amazon taking %15 of every sale, they want it all and would set up an e-commerce store on Shopify or some other platform to sell direct.
It looks like Yonover needs his product to rescue him from the Sharks.