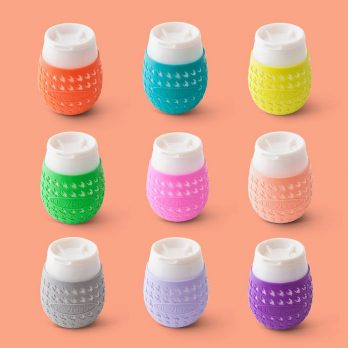 Regan Kelaher and Shannon Zappala like wine so much they created Goverre, a portable wine sippy cup wine aficionados can take with them on outdoor adventures. The two southern California women have solid business backgrounds and they like their wine. When they couldn't find a quality glass "to-go' vessel for wine, they invented one.
Goverre really is a wine sippy cup. The interior is real glass and has a wine glass shape. Glass is the only way to drink wine – plastic cups don't cut it. The exterior silicon sleeve keeps the glass safe and it comes with a spill proof, drink through lid. It works like a sippy cup and looks like a sippy cup, but for wine.
The pair got the business off the ground in 2014 with a  Kickstarter campaign that raised over $60,000. They funded their first production run with the money and haven't looked back. Goverre is on Amazon and sells on the company website. They probably want to get into places that sell wine, which is why they're in the Shark Tank for episode 820.
My Take on the Wine Sippy Cup
I drink wine at most meals – usually a glass or two. I don't drink it on the go. If I'm toting adult beverages in the cooler, it's beer and that comes in singles serve containers. I know plenty of people who like wine on the go however, and the small sample of friends I've shown Goverre to like the idea.
We see people drinking wine at the beach all the time. They bring the whole bottle, but they still need a glass and I think Goverre fits the bill for those people. For that reason, I'm in.
Do Sharks Drink in this Pitch?
Whenever wine is in the Shark Tank, Kevin O'Leary immediately comes to mind. Would the Confrérie des Chevaliers du Tastevin take Goverre on a picnic? O'Leary makes wine and he invested in Zipz in season 6 just to get his hands on the single serving wine glass patent. That said, he knows wine tastes better from a glass and that could put him over the top.
Goverre is a one product company, so other than O'Leary, I can't see a Shark biting. While their Kickstarter success and solid sales might garner some interest, the Goverre gals better hope O'Leary feels wonderful about their product.