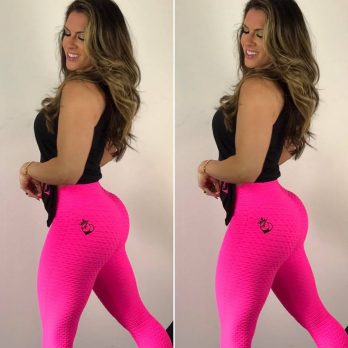 Amanda Kuclo was the Booty Queen before she met her husband Steve. She married him in 2015 and they embarked on building a business together. Amanda is a well-known fitness competitor who is famous for celebrating her bounteous booty (amongst other things). She has thighs and a butt that would put most women to shame. It's big, but she's no fat ass; her booty is firm, toned and muscular,
Her husband, Steve, is a well-known body builder. They decided to start Booty Queen Apparel to celebrate the big, beautiful booties women everywhere want to show off. The clothing line consists largely of form fitting leggings and workout pants, but they also sell tops and other accessories. While they're made for the gym, women wear them just about anywhere.
Amanda is easy on the eyes and her credibility in the fitness world gave the new brand instant momentum. She markets on her Instagram page, which is loaded with photos of Amanda and other women sporting her clothing – and beautiful booties. She apparently found her niche with her clothing line, but she wants to bring her "booty-ful" fashion to the mass market – hopefully with the help of a Shark.
My Take on Booty Queen Apparel
Without sounding too crude, I've always been an ass man, or, as my wife calls me, "a cheeky bum looker." Big or small, I like a woman with a nice bum. Amanda Kuclo, I don't mind saying, has a very nice bum! Whether she has business acumen is another story, but a nice bum will sell lots of clothes.
The one thing that concerns me is that women who really shouldn't be wearing these clothes will buy them and wear them. In the case of Booty Queen Apparel, the bum makes the clothes, the clothes don't make the bum. There are way too many women who wear yoga pants or other similar pants that just shouldn't. You'll need to hit the gym hard to make this work.
Do Sharks Provide Booty for an Investment?
Whenever a clothing line jumps in the Tank and Daymond is on the panel, everyone assumes he's the target. That may be the case, but he's shown a lot of caution with apparel lines, especially in season 8. Unless he's blown away by the Kuclos, expect him to pass. Lori owns a stake in Hold Your Haunches, the butt slimming yoga pants from season 5 she partnered with Barbara on. Booty Queen Apparel kind of competes with that business, so she'll probably pass, too.
Mr. Wonderful, Mark, and Robert all have interests in clothing related businesses, but unless the Kuclos blow them away with a great presentation and a solid valuation, I think they'll all bow out. Amanda and Steve's best bet is still Daymond, but I think they'll leave the Tank without any booty from the Sharks.