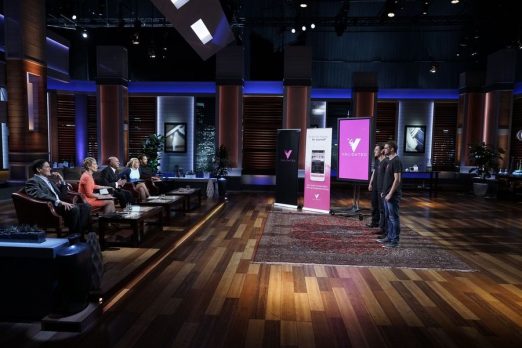 If you ever had someone validate your parking ticket for the parking garage, you'll understand what the folks at Validated are trying to do. The Validated app lets shoppers at participating merchants accumulate a certain number of points for each dollar spent. Those points can be used to pay for parking at participating lots or for rides on Uber or Lyft.
Ian Lyman, Tov Arneson, and Alex Wilhelm introduce the Sharks to their app in the "tech episode" 823. It seems there are more and more apps on Shark Tank, but validated is a clever one. It leverages the mobile economy by allowing businesses to help subsidize their customers' transportation.
It's harder and harder for brick and mortar establishments to create customer loyalty with the mobile generation and Validated (hopes to) keep people coming back. If customers know their ride to a certain restaurant is validated by Validated, they should want to go back more often. They hope the Sharks validated their business plan.
My take on Validated
Free lunch and free parking are rare these days. If you can get one or the other on any given day, you're doing well! When I lived outside of Boston, I used to go to the North End on Fridays for the Haymarket. It's an open air fruit, vegetable and fish market. I ALWAYS parked in a special lot where I could validate my parking from one of the vendors. With a stamped ticket, parking was just three bucks. If you ever parked in Boston, that is a deal!
By taking the same concept to a mobile app, I believe the Validated guys can drive more traffic to a business. Why go to a store that doesn't pay for your parking (or your ride) when you can go to one that does? I so totally get this concept and I like it. I am in.
Will Sharks Validate this App and Invest?
This is going to be one of those segments where Mark and Sacca ask a lot of tech related questions. It will be a fast-paced segment. In an episode with two other tech companies (one of which is a flop), Validated is the cream of the crop. It's a sharing economy play, which Sacca and Mark get.
Look for the two of them to get in a bidding war on this one if the numbers are right. I think Validated leaves the Tank with a deal.