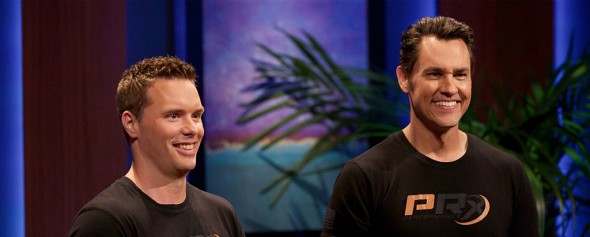 PRX Performance weight lifting racks owners Erik Hopperstad and Brian Brasch are two businessmen with a business they started together, Hopperstaad is a Division Manager at Weekes Forest Products and Brasch is the CEO of Branick Tools. Both companies are in Fargo, North Dakota – which happens to be where the guys make their PRX lifting racks. They'll pitch their products and their company to the Sharks in episode 718.
PRX racks are a space-saving weightlifting rack system that folds up and stores against a wall. When in storage mode, the racks only take up 4 inches of floor space. This is a great feature for gyms that want to make the most of a small space and for weightlifting enthusiasts who want quality equipment in their home without devoting an entire room to lifting equipment. Their slogan says it all: "Lift big in small spaces."
Like everything in episode 718, all PRX equipment is made in the USA. The company has a high commitment to quality of craftsmanship and a desire to be the best in their business. Founded in 2012, they're still growing and likely need assistance to get their products into a more mainstream market.
My Take on PRX
I used to lift in my twenties, now the only lifting I do regularly is 12 ounce curls! My weight lifting days are long done, so I wouldn't be likely to purchase their equipment. My son lifts regularly at his college's gym, but he's graduating this spring, so he could be a candidate.
The thing about serious weight lifting is it's practically a religion. A lot of serious lifters will go to a gym due to the tons of equipment needed – they may not have the space at home or the money to go out and buy everything. There are plenty of people who lift at home, too. There's a weightlifter around the corner from me who lifts out in his side yard. He must spend 20 minutes lugging all the stuff out there every other night; I joke with him that just setting up is enough of a workout!
For people who are serious about lifting, PRX racks would be a good investment. They aren't going to wear out and can be used for years. Investing in this equipment wouldn't be a stretch for a certain group in this niche. While I won't be a customer, I admire PRX's commitment to quality and customer service.
Will Sharks give PRX a Lift?
PRX could come in with the best pitch and a great valuation, but I don't think they'll leave the Tank with a deal. The Sharks, like me, will see the business operating in too small of a niche. Past "big" fitness products haven't fared well for two reasons: amount of debt and limited market size. From what I gather, PRX is a solid company with good products, I just think the Sharks will find its market too narrow.