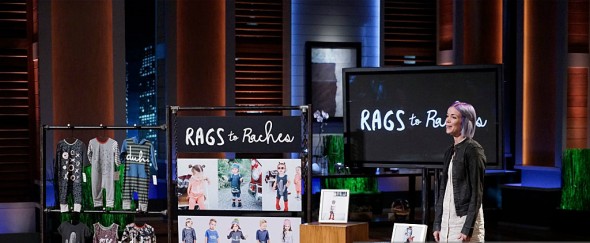 When Rachel Nilsson started selling her kids' used clothes on Instagram to help pay the bills, she noticed people were most interested in the rompers she made herself. That's when the light bulb went on and she realized she could make a business out of her hand-made rompers. She designed them to fit her frantic, kid-filled lifestyle; they're easy to put on and they are stylish – in a very toddler-like way. Rachel pitches Rags to Raches, her company that sells rompers and tee shirts, in Shark Tank episode 718. Like all products in this episode, Rags to Raches are all made in the USA.
Nilsson's rise to toddler fashion height was a quick one. She's only been doing the business since 2014 and she's gone from making nothing, to 400 rompers a week in her parent's basement and her garage, to a full scale warehouse with a fulfillment company. She did all of this in less than two years!
A big part of Rachel's success was her ability to market effectively on Instagram. People who want to maximize their social channels should take a long look at how she goes about her business there. With over 100,000 followers, she has an audience many big brands would love having. Rachel's a millennial parent selling to, presumably, many other millennial parents through the generation's media of choice.
The rompers themselves are very quirky and cute. They have bright colors and patterns with cute designs; many of them have the word "duh!" on the front. At $43.50 apiece, they aren't the cheapest rompers out there, but her social credibility and recognition as one of the Huffington Post's "top 15 coolest kid brands in America" are helping propel the company forward quickly. In fact, they're one of the 15 fastest growing companies in Utah.
Any business that grows so quickly must have growing pains. Nilsson admittedly juggles being a mom, wife, and "rompertrepreneur" hectically but effectively. She's also going beyond rompers to shirts for men, and women and fashions for older kids. She likely needs a Shark to help her manage her rapid growth.
My Take on Rachel's Rompers
My kids are way past needing these, so I won't be a customer until somebody starts pumping out grandchildren (something I look forward to but can certainly wait on). Even then, I'll be the guy tossing the kids in the air and making funny faces. I'll leave shopping for rompers and other toddler accouterments to my lovely wife. I think Rachel's designs are cute and I can see why people like them.
Even though I think 43 bucks is a tad high for a glorified onesie, I hearken back to the days when my kids were that size – and that inexpensive. Now they want vacations and cars (on top of tuition)! I wish Rachel well.
Do Sharks go for a Romp?
Obviously, Rachel's story is sure to impress. Her grass-roots marketing effort is something very few businesses can accomplish effectively. If she doesn't come in with a crazy valuation and her sales are commensurate with her rapid growth, she should field an offer or two. The only thing that could derail her is a major screw up with manufacturing, an issue that plagues many entrepreneurs getting products made overseas. Since Rags to Raches are made in the USA, there shouldn't be an issue there.
Mr. Wonderful doesn't often get involved with baby products, but they'd fit into his "Something Wonderful Platform" quite well. People spend irrationally when there is a new baby and that's when Mr. Wonderful wants to sell things to people. I'd like to see him make an offer on this company. He has Frill Clothing in his portfolio already, why not clothes for younger kids?
Mark also has clothing companies in his portfolio. Red Dress Boutique is one of his bigger success stories and they don't sell kid's clothes – maybe there is synergy there. Lori or Robert may also have an interest. Baby clothes could kill it on QVC and Robert likes internet based sales companies with vision.
Obviously Daymond is the "target Shark" for any clothing company. A big part of his expertise is sourcing things overseas, so maybe he's not valuable in that respect. he could be an asset should Rags to Raches want to go to retail, but even Daymond might counsel against that strategy given the success of the current business model.
I think Rags to Raches gets a deal, I just don't know which Shark takes a romp!