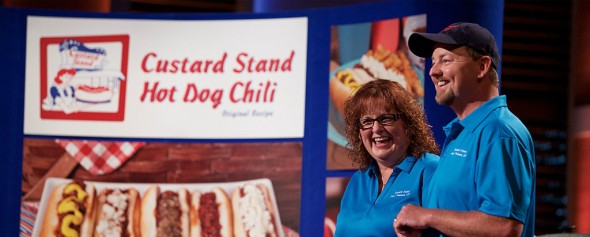 Dee and Angie Cowger are husband and wife "hotdogtrepreneurs" and the owners of The Custard Stand, a 5 unit franchised business in West Virginia. They started selling hot dogs at the original Custard Stand in 1991 and began making their hot dog chili in a converted car wash behind their Webster Springs, West Virginia location in 2003. Their chili is a big regional success: it's sold in 15 states in the mid west and southern east coast at places like Wal Mart, Sam's Club, and IGA. The Cowgers pitch the Sharks in episode 718, hoping to get an investment to help them grow their hot dog and chili business.
The Cowgers appear to have a successful business. They're growing on two fronts: franchising and selling chili. So far, they've turned a small hot dog stand into a mini empire with six stands and their chili operation. They likely want to scale to a national level and hope the Sharks can accelerate their growth.
My Take on the Custard Stand
I am a "hotdogtrepreneur" myself: I ran a hot dog truck for 6 years and I operate several hot dog related websites. As The Hotdogman, I've visited nearly 200 hot dog joints in the US and Canada. I've tried many styles – that's the beauty of hot dogs, each region has their own style. One thing that's consistent everywhere is some sort of chili dog. When I say chili, I don't mean the ground beef and beans; hot dog chili is usually a meat only chili.
Hot dog chili has its origins with Greek immigrants at the turn of the 20th century. Many Greeks who came to the US opened hot dog stands and began putting a spicy, hamburger-based sauce on hot dogs. Depending on where you live, this chili is called different things. In New England (except Rhode Island), it's often called Coney Island Sauce. That term is also used in Michigan, Baltimore and Florida. In upstate New York and Quebec, the sauce is called Michigan Sauce. In New Jersey, it's called Texas Wiener Sauce. In Rhode Island, it's hot wiener sauce. In many parts of the country, it's called sauce, chili, or, like at the Custard Stand, hot dog chili.
Whatever you call it, it's a ground beef sauce that has spices added to it – usually cayenne pepper and a host of other spices. The spice profile of an individual hot dog joint's chili is usually guarded like a state secret! The consistency of the sauce varies by region and location. Sauces can be on the dry, crumbly side – like in the Flint, Michigan area and at LaFleur's in Quebec. Or very soupy like at some of the mid-New Jersey and Detroit area sauces. The spice profiles range from a sweet, mild taste to moderately spicy. From what I gather from my West Virginia hot dog contacts, Custard Stand chili is of a milder variety.
West Virginians have their own take on a "chili dog." A typical "Coney Island" Hot Dog has a hot dog topped with sauce, chopped onions, and mustard; some folks add a little celery salt, too. A West Virginia hot dog has all those components, plus coleslaw! The coleslaw adds a nice creamy/crunchy kick to the ensemble; I used to serve them on my hot dog truck! I also concocted a twist on the West Virginia hot dog at my buddy Archie's truck. We used Slawsa in place of the coleslaw and called it an "Appalachian Dog."
Now that you have a bit of hot dog history, I'll comment on the Cowger's business. First of all, it looks like they are doing it right. ANY restaurant that stays in business for 25 yearas and expands to five locations is doing something right. Adding a wholesale food production component to the business is another big success.
I've never tried their chili, but I never met a chili dog I didn't like – except for a dollar store hot dog I ate on a dare. If they have the stuff for sale in 15 states and they're producing up to 4000 pounds a day, they must have a good product. For critics who find it too mild, I'd suggest sprinkling some cayenne pepper on top – like they do at LaFleur's in Quebec. Even without sampling the product, I am solidly IN!
With Sharks Dog It?
I am sure the Sharks will like the chili and the Cowger's. Their pitch looks to be an uplifting and inspirational one. Since I am interviewing them prior to the air date, I will refrain from making any predictions and simply wish them good luck.