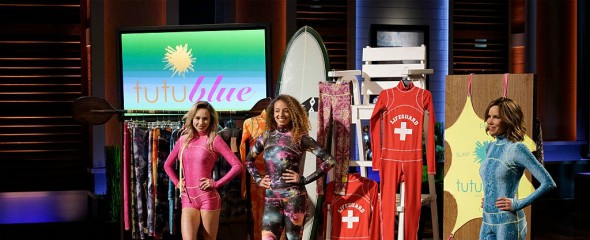 Mr. Wonderful is used to being the "villain" in the Shark Tank, but when Sarah Buxton pitches TuTu Blue, her line of "Long" beachwear, he may be over-matched. Buxton is most famous for portraying bitch extraordinaire Morgan DeWitt for several years in The Bold and the Beautiful. In that role, Buxton was a super villain who routinely schemed murderous and adulterous plots against her fellow co-stars. If she retained any attitude from that role at all, pitching to the Sharks in Shark Tank episode 717 should be a piece of cake!
Whether Buxton is a business villain or not, she invented Tutu Blue for a very serious reason: she had a skin cancer scare. She originally created TutuBlue suits to give her a light-weight, quick drying, long cover-up to protect her skin from the sun without the need for applying (and reapplying) sunscreen. Sarah is a beach lover and lives in sunny southern California, so she spends much of her leisure time in the sun and surf, proper protection is a must – skin cancer scare or not.
The suits currently only come in women's styles, but plans for men's and kid's versions are in the works. Picture a Tutu Blue suit as a long-sleeve, long pants bathing suit that offers 50 UPF protection. They come in all kinds of wild colors and patterns and are readily available on Amazon and in upscale beachwear retailers in Laguna Beach, CA and Miami Beach, FL. The suits will set you back around $200, so they are on the pricey side, but if you factor in all the money you'll save on sunscreen, it's not too expensive!
Will a Shark think Tutu Blue is a suitable investment?
My Take on Tutu Blue
Since moving to Florida, I've taken to wearing a lightweight, long-sleeve, hooded sun shirt when I am out fishing or at the beach. It's very similar to the TutuBlue tops, but it has fish scales on it! I still wear shorts, but I find I have to apply a lot of sun screen to my legs. I might try a long pant bathing suit or sun pants, but it probably wouldn't work on me with some of Buxton's wild patterns.
Since she doesn't have men's suits yet, I really couldn't say I'd use the product or not. My wife liked the styles and the concept as she's fair-skinned. She even "hinted" that she'd like one (The Aqualung to be precise). Whether she gets one for Mother's Day or not, she likes the product, so I guess I am "IN."
Will Sharks Swim with Buxton?
It will be interesting to see if any of the Sharks know Buxton's soap opera persona. Beyond that, this could be a challenging pitch. There is some synergy with Mark Cuban's Tower Paddle Boards, but I am not confident he'll see this as an invest-able business. The same goes for Kevin and Robert. Daymond would have been a good "target Shark" for Buxton, but he's not on the panel.
That leaves the Sharkettes. They may like the styles, but I think the high price will keep Lori from going in. Barbara likes the beach, but there will have to be great sales numbers to entice her. As always, sales trump a lot of objections in the Shark Tank, but I think unless Buxton has some outstanding numbers, she leaves without a deal.