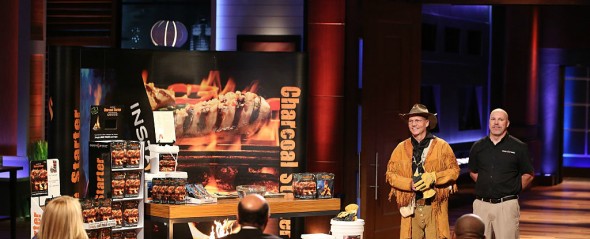 Insta Fire is a product that lets you start a fire or charcoal grill in virtually any conditions. Whether you're out hiking in the snowy mountains or just lighting the backyard grill, InstaFire can get you fired up almost instantly. Konnel Banner and Frank Weston created the product because they are both avid outdoors men who know that fire can be the difference between life and death in the wilderness. They's pitch the product to the Sharks in episode 718.
Insta Fire looks like a course powder. It's made from volcanic rock, wood pellets, and paraffin wax and will light almost immediately and sustain a hot flame for several minutes – long enough to ignite even wet firewood. It's a must have product for anyone who camps and hikes or spends any serious amount of time in the wilderness. If you're caught outdoors without fire, you can't cook or even have safe drinking water, never mind the need for heat if things get cold.
As for the backyard barbecue, it's a better solution than lighter fluid. Not only is Insta Fire safer, it won't impart an odor on the charcoal or food. It almost looks like magic! The product is readily available on Amazon and comes in big buckets or boxes of single use pouches. The guys likely want a Shark to help with getting into big box retail. Will a Shark light up over this opportunity?
My Take on Insta Fire
Back in the day when I'd strap a pack on my back and disappear into the woods of New England for a few days, I would've definitely have some of this in my back pack. There were many times I spent a cold night without fire due to rain or snow – Insta Fire would have been perfect.
It would have been handy when hurricane Sandy put our power out for four days a few years back, too. We had a heck of a time starting fires with all the wet wood. I am definitely getting some for the barbecue! I am IN!
Do Sharks get Fired Up?
This is an interesting product and this pitch could go either way. It has "wow factor,' particularly when Mr. Weston lights some of the product in his gloved hands. The thing that the Sharks will wonder about is why the business isn't further along. They've been around since 2008 and haven't made a big splash – until jumping in the Tank. Mr. Wonderful always lambastes entrepreneurs if they aren't profitable in 3 years, so these guys could be in for some witticisms from the Wonderful one.
If they have solid numbers and steady growth, they may garner some interest from the Sharks with big box retail connections. This is a company Robert could invest in if the deal was right, he could bring Insta Fire along with him while looking for gold with his Gold Rush Nugget Buckets!
I really don't have a firm grasp on how this pitch goes, but I hope they get a deal. For something that burns so hot, it's a cool product!