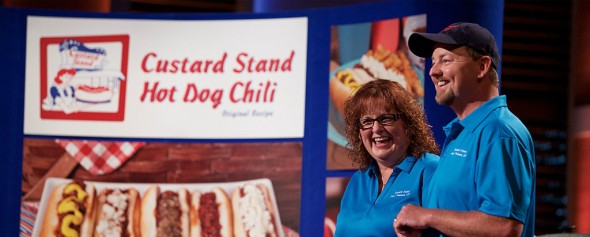 I had the opportunity to speak with Dee and Angie Cowger, owners of The Custard Stand and makers of Custard Stand Hot Dog Chili. The couple opened The Custard Stand in their small town of Webster Springs, West Virginia in 1991. I immediately became clear that the "hot" item in their shop was their home-made chili, from an old family recipe. Dee and Angie appear in Shark Tank episode 718, which was bumped to a special Sunday night airing at the last minute. The episode was originally scheduled for Friday, February 26, now it airs on the 21st at 10 PM Eastern time – right after the Disney 60th Anniversary Special.
I caught up with the Cowgers via conference call in a frantic attempt to get an interview before they air. Being a fellow "hotdogtrepreneur" myself, I had a special interest in this business!
Angie began by telling me a bit about their roles. "I do the marketing and sales side of the business," she begins, "Dee handles manufacturing." The couple grinds out up to 5000 pounds of their hot dog chili per week. In anticipation of The Shark Tank Effect, they added an additional 200 gallon cooker capable of making 2,080 lbs of chili in a day, in addition to their current 4,000 lb capacity – a 92% increase in production capability!
"That's a lot of chili for an old car wash," Dee jokes, referring to the location they make their chili in – a building behind the The Custard Stand that used to be a car wash.
"We are a USDA production facility," Angie explains. "That means we have a USDA inspector on our premises every day. In the beginning, the first USDA inspector we worked with gave us a lot of friendly advice because he worked with a lot of companies and he didn't want to see us fail."
"The inspector told us to put our chili in a plain, white plastic with a sticker on it," says Dee. "There was no way I was putting our chili in a plain package like that!"
"When we ordered our first batch of 10,000 tubs, it felt like a big victory," Angie continues.
"I think at that point, he realized we were gonna work so hard and refused to fail," Dee adds.
The Custard Stand Hot Dog Shop
"The Custard Stand shops are a big part of our business," Angie explains, "but the chili is the big business. We still go into our stores, but they pretty much run themselves. We have a manager who's been with us 24 years and the other locations are run by franchisees."
"We use all-beef Superior Wieners in The Custard Stand," Dee adds, "but we tell people we sell chili with a hot dog underneath it! When we are out at a supermarket doing a sampling event, whatever hot dog the store wants to sell is what goes under our chili."
"Most people get the chili dog," Angie says, "which is a hot dog wiener with our chili and mustard, plus one other topping. In the true West Virginia style, a lot of folks put coleslaw on it. We also serve a chili bun, which is a hot dog bun filled with chili. To a lot of people around here, a chili dog is what we call our chili bun, so when someone comes in to The Custard Stand for the first time and orders a chili dog, we have our people double-check. People like our chili because it's sweet and mild, they just love it."
The Road to Shark Tank
"I do a lot of sampling events at stores," says Angie, "and people know we want to grow the business, so they were always saying 'you should try out for Shark Tank. Up until last November (2014), I was aware of the show, but hadn't seen it, so I took a look."
"I was deer hunting in Indiana," Dee interjects, "and Angie calls me up saying I should take a look at this Shark Tank show. I did, and when I got back, we watched a whole bunch of the shows. That following March (2015) I sent an email to the show and we got asked to do a video and a bunch of paperwork about a month later."
"They sent us an email on April 1," Angie laughs, "and I thought someone was playing an April Fool's joke on me. When they called a bit later, I knew it was real."
The couple's become fans of the show, and they even tried a few products.
"I just love that FiberFix," says Dee. "I had a leaky valve in a spa we have and it's in a real tight spot. I just couldn't get my hands in there to turn a wrench, so I picked up some of the FiberFix and wrapped it around the leaky spot and it did the trick. I sold two rolls of the stuff the last time I was in the hardware store just by talking about it, it works! I also liked the presentation by the Tree Tee Pee guy, it was touching."
"I think a lot of people felt that way about that guy," Angie adds. "To help us get ready for the show, we spent a lot of time looking at the information out there about Julie from Slawsa. We got a lot of information there."
"We also did a lot of work in anticipation of our air date. We now have a fulfillment center so we can offer flat rate shipping. We had a customer in Texas order 5 pounds of chili and it cost nearly $100 to ship. Now we can be more affordable."
"We want to grow the shipping piece of the business," Dee adds. "Before, we'd ship 2 or 3 tubs of chili a week, now it's 2-3 per day. We're hoping for a big boost on that side from  the show."
"We also redid our entire website," says Angie. "It was something we'd been planning on, but Shark Tank pushed it to the forefront."
"The Custard Stand Hot Dog Chili in the stores and wholesale is still the biggest part of our business. Depending on which chain we're in, our chili is in different locations. In Kroger stores, it's in a stand up cooler with the gourmet sausages. In some stores it's in cases, in others it's in the meat department, in others it's with the hot dogs and wieners. Sometimes we're in those big, open freezers with a bunch of different hot dogs and our chili is lined up as a boundary between the different hot dog brands. Some Sam's Clubs even sell it in their cafes."
"It's in stores year-round," Dee adds, "but we really ramp up production from Memorial Day to Labor Day. We want to expand geographically by May first of this year. We're hoping Shark Tank can help us expand our business. We're looking at a 30%-40% increase in reach."
Looking Ahead
Dee and Angie are true to life, down to earth, hard-working small town folks that just happen to have a really big chili business.
"We live in a town with one stop light and we like it that way," says Angie.
Of course they couldn't tell me if The Custard Stand got a deal, but they had some insights into business and entrepreneurship they wanted to share with Shark Tank Blog readers.
Angie: "To be successful, you have to believe your product is the best in order to represent it honestly. And you cant be afraid to take no for an answer, you need to learn from the "nos."
Dee: "You really need to be persistent. When we were first starting out, we'd go into stores and give out samples to the guys in the meat department. Sometimes they didn't want to try it, but once they did, they said it was the best chili they ever tasted. It was like when that USDA Inspector told us to put our chili in Styrofoam Tubs. I said no because we are all about appearances. He was trying to protect us from going broke quick, but once he was around for a while and he saw how persistent we were, he knew we'd be alright."
I had one other question for the Cowgers. They answer THAT one on The Hot Dog Truck!