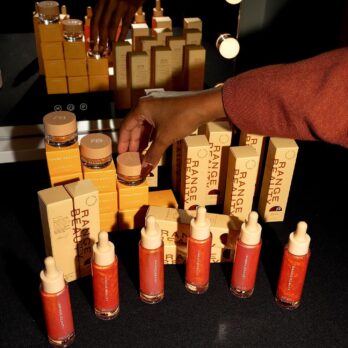 Alicia Scott founded Range Beauty in 2017 under the name Skinny Dip Cosmetics. She re-branded the company to Range Beauty in 2018 after a Twitter influencer re-tweeted one of her tweets saying of the cosmetic line "this is what you call range." As an account executive for an Australian designer, she was often backstage at fashion shows and noticed there weren't many options for make up for black women. She decided she'd create a line of cosmetics for women with darker skin.
Without any experience formulating cosmetics, Alicia Scott went to "YouTube University" and sought out cosmetics manufacturers online. She found a manufacturer who formulated all natural cosmetics and began working with them to create her formulas. What she made was a clean beauty collection that had an added benefit: it was good for people with eczema. Scott suffers with eczema herself an says around 35% of black women suffer from it. She found her niche.
It's a bit of a Cindarella story about how she started the business. She launched it with just $300. Initially, she got the word out about her line on social media. She also entered a pitch competition that netted her $50,000 and a deal with Target to distribute her products. With an additional $200,000 from a private investor, she built sales to over $300,000 in just three years. Now, Alicia Scott is headed to the Shark Tank to get a Shark's help building her brand.
My Take on Alicia Scott
As a white man, I am not a customer of eczema friendly cosmetics for black women, but I admire Alicia Scott's story. As the writer of the Shark Tank Blog for over 11 years, I come across a lot of inspiring entrepreneurs and Alicia is one of them. Anybody who can parlay $300 into $300,000 in three years has to inspire a certain degree of awe.
She had a clear idea of what she wanted to do and she just did it. Her tenacity got her featured on Beyonce's website and in multiple media outlets. Sometimes, starting a business with pure grit is better than having a lot of start-up money. Even though I'm not a customer, I'm in.
Will Sharks Like This Range
One thing is certain, neither Kevin nor Mark will invest. They'll both be impressed by Alicia to be sure, but Kevin doesn't do cosmetics and neither does Mark. That leaves Barbara, Lori and Emma. I don't think Barbara bids though.
In a season which is featuring many black female owned businesses, Range Beauty will get a deal. Emma Grede is the first black female Shark and she and Lori did a deal with KIN Apparel in episode 1301. I think the same thing happens here and Range Beauty leaves with a deal with the two Sharks.