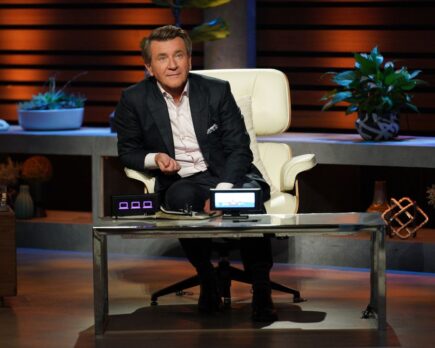 Mark, Daymond, Kevin, Lori and Robert are the Sharks for Shark Tank episode 1321. Together they'll hear pitches from four new businesses seeking investments from the wealthy panelists. Will the Sharks bite on any deals tonight?
Les Cookson returns to the Shark Tank 11 years after pitching the Carsik Bib back in season 2. This time he's pitching his Lucy Drawing Tool, a modern day camera lucida that projects an image onto drawing paper or canvas for artists. Meghan Wolfgram hopes to snag a Shark with SwiftPaws, he motorized capture the flag game for dogs. Steve Skillin and Conor Smith hope a Shark chips in for Busy Box, their illuminated, digital "do not disturb" sign. Shahira Marei hopes the Sharks bite on The Dirty Cookie, her cookies that are also shot glasses. Which company strikes a deal tonight?
In tonight's update segment, we'll take a second look at Tenikle, a portable tripod for smart phones and tablets. Earlier in season 13, Daymond invested $200,000 for 30% of the business. Tonight, we'll see what's happened since Daymond got involved.
The Sharks
---
Daymond John
Robert Herjavec
There are 26  Shark Tank Episodes for Season 13. This season features the six original Sharks: Mark, Daymond Kevin, Lori, Barbara and Robert. Four new Guest Sharks will join the panel in season 13. They are: Kevin Hart, Actor, Investor and Entrepreneur; Emma Grede, CEO and Co-Founder of Good American and Founding Partner of SKIMS; Peter Jones, Dragon on BBC's Dragon's Den; and Nirav Tolia, Co-Founder of Nextdoor. Also Guest Shark Daniel Lubetzky returns. Casting is currently closed, but it never hurts to get a head start on season fourteen! If you would like to appear on the show, check out our Auditions and Casting information.
Episode 1321 – The Shark Investors and Entrepreneurs
The Shark Tank Episode 1321 entrepreneurs will make their best pitch to the panel of five Shark investors who will use their own money if they choose to invest. The Shark Investors negotiate on the spot without any previous information, which differs from typical negotiations between venture capital investors and entrepreneurial start-ups.
Companies pitching the Shark Investors must go through a rigorous due diligence process before an on-air deal is completed. Shark Tank Blog follow ups help you keep track of the companies that end up successful and the ones that don't complete their deal.
Thank you for reading SharkTankBlog, the number one site for Entrepreneurs, Investors and Fans. Our content updates multiple times day, giving you the latest information on Episode 1321, Season 13, and all other seasons and episodes.
Episode 1321 Press Release
"Episode 1321" – An entrepreneur from Lincoln, California, makes his second appearance in the Tank and hopes this time around his reinvented take on an old drawing tool for artists will land him a deal. An entrepreneur from Malabar, Florida, introduces the perfect way to bond with your dog with her equipment designed to keep them mentally and physically fit; while entrepreneurs from Whitinsville, Massachusetts, and Kittery, Maine, present their productivity tool which helps professionals work uninterrupted while working from home. Last in the tank is an entrepreneur from Foothill Ranch, California, who gets one shot to impress the Sharks with her custom sweet treat design that makes the perfect gift on "Shark Tank," airing FRIDAY, APRIL 8 (8:00-9:01 p.m. EDT), on ABC. (TV-PG, L) Watch episodes on demand and on Hulu the day following the premiere.
In a Shark Tank update, Hans Dose from Menifee, California, updates his investor Daymond John about Tenikle, the octopus-inspired tripod mount for phones, cameras and tablets.
The Sharks in this episode are Mark Cuban, Robert Herjavec, Kevin O'Leary, Lori Greiner and Daymond John.