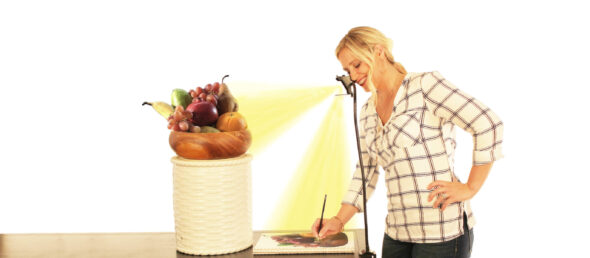 Les Cookson returns to the Shark Tank seeking a deal for his Lucy Drawing Tool, a modern day camera Lucida, in Shark Tank episode 1321. Les first appeared in the Shark Tank way back in season 2, episode 206. In that pitch, he was looking for a $30,000 investment in return for 15% of his company, Carsik Bib. The pitch is one of the most bizarre in Shark Tank history. It featured a fake baby puking pea soup into a bib with an attached barf bag. Needless to say, he didn't get a deal.
This time around, he has a more "conventional" product, The Lucy Drawing Tool. It superimposes an image onto a drawing or painting surface allowing you to effectively "trace" the image and draw or paint a better representation of the subject. It's a modern day reiteration of the camera lucida, which was patented in 1806 by the English chemist William Hyde Wollaston. Les has an interest in historical optical devices and has made replicas of  old drawing tools, optical toys, and hand-built replicas for everyone from artists to movie studios.
The modern day Lucy Drawing tool is lighter and easier to use than the older versions of camera lucidas. He got the business rolling with a successful Kickstarter campaign that raised $88,771  back in April, 2016. There are two models. The Lucy Flex costs $97 and projects an image up to 19×27 inches. The Lucy Pro costs $277 and projects an image up to 20 x 37 inches. There is also a $22 photo enlarger that will enlarge small photos into a bigger image. All products are made in the USA in the San Francisco area. Les likely wants a Shark's help bringing more attention to the product.
Company Information
Video

Posts about Lucy Drawing Tool on Shark Tank Blog
Lucy – Modern Day Camera Lucida
Lucy Drawing Tool Shark Tank Recap
Les enters the Shark Tank and starts talking. He pretends that he's getting sick then shows a clip of his first appearance on the show as the Sharks laugh.  He takes a CarSik Bib and throws it while saying he "took that invention behind the barn and shot it." Les is seeking $300,000 for 10% of his company. He explains how Lucy works, then invites Kevin on stage to try it out.
He shows Kevin how to use it and Kevin draws a Shark. Kevin thinks it's cool. Kevin says it was easy. Next, Les explains how to use it to the other Sharks. Les has a provisional patent on the improvements he made on the Camera Lucida. 20% of sales are to people learning to draw, 20% are to professional artists and 60% are to amateur artists who want to draw better. Les spent four years tinkering in the garage improving the device.
The Lucy Flex costs $128 and costs $25.50 to make it. In the last 12 months, he has $2.3 million in sales. Last year (2020), he did $3.7 million in sales and profited $1.6 million. Lifetime sales are $10 million. The Sharks are impressed. 95% of sales are direct to consumer. In 2020, he did $70,000 a month in advertising.
Les says he wants a Shark's help with customer acquisition. Currently CAC is $48. Mark says this isn't for him, he's out. Robert says he's in awe of his journey but it's not a product he's passionate about; he's out. Lori thinks he's doing fine by himself; he's out. Kevin says it's too niche, but he goes out. Daymond says he's blown away by the numbers. He wants to know why Les thinks a Shark can help with customer acquisition. Les says he has 70,000 customer emails and he'd like to sell them art courses. Daymond says 70,000 emails "is like talking dirty." Daymond offers $300,000 for 20%. Les says his offer was fair and he counters with 12%. Daymond counters with 17.5% and Les offers 15%. Daymond says "that's just where I wanted to be" and they do the deal.
Lucy Drawing Tool Shark Tank Update
The Shark Tank Blog constantly provides updates and follow-ups about entrepreneurs who have appeared on the Shark Tank TV show. Two weeks after the original air date, Les and Daymond were "still working on the deal." Les said he was "confident that we'll find a way to work together." As of the first re-run of this episode in July, 2022, the deal with Daymond has not closed. As of December, 2022, there is no evidence the deal with Daymond closed.
The company added a drawing set, an easel  and water color paints to the line. They also  added a Lucy Flex and a Lucy Mini. Lucy University offers a drawing course for people who puchase one of the Lucy models.  The company was valued at $3 million when Les appeared on the show but as of August, 2023, reliable revenue figures are unavailable.
The Shark Tank Blog will follow-up on Lucy Drawing Tool & Les Cookson as more details become available.