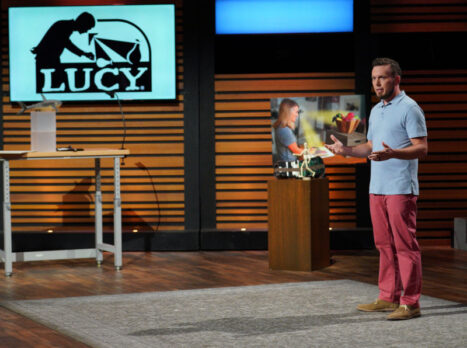 The first time Lucy inventor Les Cookson appeared on Shark Tank, he was laughed off the stage. He was pitching the Carsik Bib, a baby travel bib with a barf bag attached. It was a notable pitch as he had a baby doll puking up pea soup to demonstrate it. It's still one of the wackiest pitches in Shark Tank history. This time he has Lucy, a modern version of the Camera Lucida.
A Camera Lucida optically superimposes any object or image through a series mirrors. It basically projects a ghost image. Artists find it a helpful tool as you can basically project what you want to draw or paint right onto your canvas. Les was actually working on Lucy back in season 2, but it wasn't ready for the Shark Tank yet. He spent the last 11 years developing and selling Lucy. He also builds historical optical devices for television and the movies. The business got off the ground with a series of successful Kickstarter campaigns he used his Shark Tank notoriety to help get funded.
Les has two models: the Flex and the Pro. The Flex costs $97 and the Pro is $299; the difference is in the size of the image projected. Each model can be fitted with a photo enlarger to make images from photographs bigger. Les is hoping this business won't get laughed off the stage. It shouldn't – he has sales. In a press release for his latest appearance he said "Last time I had a barfing dummy, this time I'm coming with millions in sales. We'll see who's laughing now." In deed we will.
My Take on Lucy
One of my daughters is a very accomplished artist. She does it as a hobby, but I've been telling her for years I want to lock her in a barn with art supplies! We have 17 of her works displayed in our home. When she lived at home, her room looked like an art studio.
I think she has one of these. When we visited her recently, there was something in her art room that looked like Lucy. When I asked her what it was, she said it projected images onto he drawing pad. She never said what it was, but it looked like Cookson's product. If it's good enough for my daughter, it must be a useful tool. I'm in.
Will Sharks Love Lucy?
Art related products are few and far between in the Shark Tank, so I don't have a feel for what will happen. One thing I'm sure of is the Sharks could consider the business "too niche." The Sharks generally shy away from niche businesses, but sales can change their tune.
In his press release, Cookson said he had "millions" in sales. If there is a steady upward trajectory, it could garner some interest from the Sharks if the valuation is right. One thing is for certain, there will be no barfing babies on stage tonight!