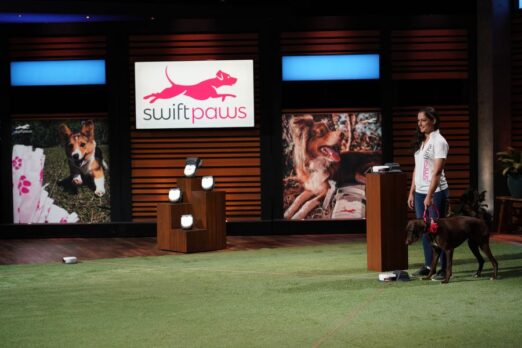 Meghan Wolfgram invented Swift Paws to help her dogs stay engaged and get exercise. Meghan is a dog lover whose only full time job since college is running SwiftPaws. The product is a series of pulleys and line powered by a motor. Simply attach a flag to the line and turn it on. The flag goes "running" around on the line and the dog chases it until he captures it.
Meghan originally had an "professional" version she sold to police K9 units and any other organizations that want structured fun for their pooches. A zoo even bought one to exercise its cheetahs. In 2018 she looked to Kickstarter and IndieGoGo where she raised a combined $203,744 to create a home version for dog owners. At that time, she stopped selling the professional model. The home version comes with the main motor unit, a remote, 3 pulleys, battery, charger, flags, line, line winder, stakes, tethers, and tote bag; it costs $499. The Home Plus version has more pulleys and longer battery life and costs $799.
As I said earlier, Meghan is a dog lover. She's worked with animal behaviorists, trainers and zoo personnel. She wants Swift Paws to be a "health & wellness lifestyle brand for pets." It sounds as if she has other products in development, too. She's likely looking to the Sharks for manufacturing capabilities and inventory. A Shark could help with that.
My Take on Swift Paws
My dog, Zoey, is a 70 pound American Bulldog. She LOVES to play. Every night, around six o'clock, my wife gets home. When Zoey hears the "beep" of my wife locking the car, she grabs her favorite ball and rushes to greet her at the door. 10-15 minutes of play ensues and Zoey just loves it.
Zoey would love Swift Paws too. She loves chasing things – including birds, rabbits and squirrels in our yard. She'd have a blast with this product. My only concern is she'd destroy it from being over rambunctious. At five hundred bucks, it's a pretty expensive toy for a dog, but us dog lovers like spoiling our babies, so I'm sure it will sell. I'm in.
Do Sharks Bite Dogs?
Robert is the dog lover in the Shark Tank, so he will likely be very engaged. As for the other Sharks, Daymond, Mark and Lori have all invested in other pet products, but they were nothing like this. I'm not sure of Kevin's stance on dogs, but he's not a fan of the pet products space in general.
I suppose any of the other Sharks could make offers if there is a solid valuation. Meghan seems to have brought the business a long way, perhaps a Shark can help her become that health and lifestyle brand she wants to become. We shall see.