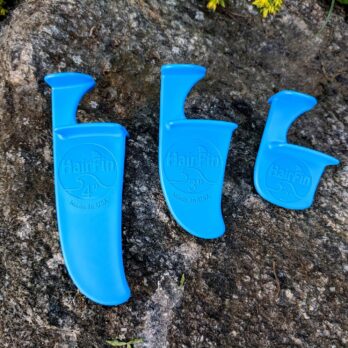 Hair Fin inventor Tony Litwinowicz has been cutting his own hair since he was a kid. He used to use clips, but they were only an inch long. He wanted a hair cutting tool that would allow him to leave his hair longer, so he invented his own. As Tony says: "The HairFin guides are light weight, compact, and sturdy. You can use them anywhere!"
Tony wasn't always an entrepreneur. He's an engineer by profession and he worked at Sikorsky until he retired at the ripe old age of 34. Both he and his wife – also an engineer – lived frugally, saved aggressively and invested wisely so they could retire young and enjoy life. Now Tony is coming out of retirement to pitch his product in the Shark Tank.
The Hair Fin is just what it says it is. It's a fin-shaper guide that lets you grasp a clump of hair and cut it at an exact length. A pack of three comes with a two, three and four inch guide and costs $14.99 on Amazon. He makes them just ten minutes from his home at a factory in Derby, Connecticut. If you grab a pack, you'll be able to easily cut your own hair soon. Tony hopes the Sharks like his fins.
My Take on Hair Fin
Like Tony, I cut my own hair. I won't be using a Hair Fin though. I maintain a shaved head with an electric razor and a foil shaver. My wife cuts her own hair and my daughter's hair though. She uses clips and a comb. When I asked her what she thought of this product, she was intrigued.
She said she likes how it's curved so it will glide through hair easily. She also likes the grips at the top of the tool. Since her hair and my daughter's hair fall well below the shoulders, HairFin wouldn't work for them though. When I told her Tony was coming out with 5 and six inch Hair Fins, she just said "hmm."
Will Sharks Like These Fins?
Daymond already has a hair cutting tool in his portfolio, so I doubt he'll make an offer. He invested in Cut Buddy back in season 9. That business crushed it during the Covid-19 pandemic when barber shops and hair salons were closed. I hope Tony isn't a day late and a dollar short on his product.
As for the other Sharks, I think Mark will call it a "product not a company." I doubt Robert gets overly excited about the product as well. Mr. Wonderful could drop a royalty offer if the numbers work. If Lori thinks it's a good QVC product, she could be interested too. I'm just not getting the sense Tony's getting a deal.