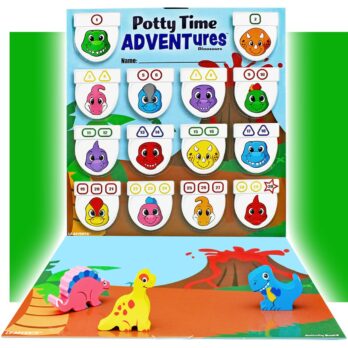 Mindy and Brandon Wright invented Potty Time Adventures because their daughter was "reluctant" to potty train. They wanted a way to make it fun for her. When Brandon started brainstorming, he recalled enjoying Advent calendars as a child. For you non-Catholics, Advent is from the Latin word  adventus meaning "coming" or "arrival." It marks the four Sundays before Christmas and many people will have an Advent calendar in their home during this time. Each day, you open a little door on the calendar. Behind the door is usually a piece of candy. It's a fun way to build up to Christmas. As a child, I enjoyed them too.
The idea behind Potty Time Adventures is similar to the Advent calendar, hence the company's name – Lil Advents. Every time your child makes what the Wrights call a "deposit," the child gets to put a sticker on one of 14 doors on the calendar. When they put the sticker on, they get a little block to play with. The blocks match the theme of the calendar. Themes include farm animals, vehicles, unicorn friends and dinosaurs. Once the child has opened 30 doors, they get a badge to show they completed it.
The Wrights say it should take 60-90 days to completely potty train a child. Their reluctant daughter got trained with Potty Time Adventures in just two weeks! They've been "making deposits" since November of 2019. In 2020 they did $200,000 in sales and it appears they are poised for some serious growth. They'd love it if a Shark came along for the ride.
My Take on Potty Time Adventures
When my oldest was born, I asked my aunt who was a nurse and had a one year old at the time how she potty trained. She had older kids too. She said she "tried all that Dr. Spock BS with my older kids. Now I just give her a piece of candy when she uses the potty. I tried that strategy and it worked like a charm for all 5 of my kids. We also had a hand made chart on the bathroom door, but it was the candy that was the big motivator.
Happily, my potty training days are over, so I am not a customer. I think it's a cute idea though. Anything that takes the stress out of having kids potty training is sure to be a hit with parents. Crikey we had three in diapers at one point. You want to talk stress? I'm in.
Will Sharks Potty Up?
I'm thinking the Wrights get a deal. Every indicator tells me they are doing well in 2022. That said, I think only two Sharks make offers. Mark, Daymond and Robert will likely take a pass on this. That leaves Lori and Kevin.
Lori seems to make offers on anything to do with potties. Potty Time Adventures is demonstrable, relatively inexpensive and appeals to a never ending new market of parents. She could probably sell the crap out of these on QVC. Kevin's "something wonderful" platform would fit with this. He has a whole slew of business geared to the wedding market. What comes after weddings? Babies! This product could get plugged in to that business easily. I expect offers from both Sharks; Kevin's will likely have a royalty component.