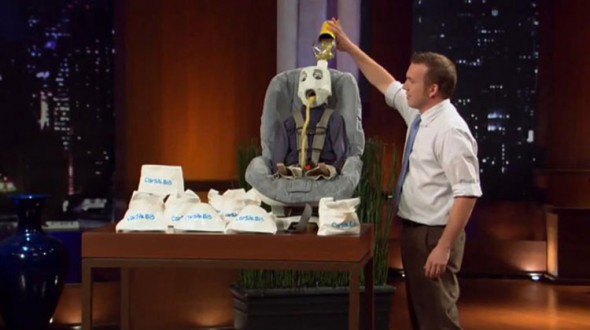 In episode 206, Les Cookson brings his Carsik Bib to the Sharks in hopes of making a deal that will allow him to take his unknown product to fame and fortune. Cookson created the Carsik Bib because his own children had issues with car sickness. He and his wife had dealt with the mess and odor of their children's malady. He felt that they could prevent messes in car seats and automobile seats by providing a sort of "barf bag," even for children who are too small to hold it for themselves. Cookson is depending upon the Sharks' networking connections to help launch his product.  
Carsik Bib Shark Tank Recap
Cookson enters the Shark Tank looking for a $30,000 investment, in return for 15% of his company. He offers the Sharks a demonstration using a very crude, cartoonish homemade model of a child's face, mounted on a car seat, which makes the Sharks chuckle. Les explains that 58% of children suffer from car sickness. He then demonstrates the bib, showing how it's attached just like a regular bib, and demonstrating how the bag catches the vomit, preventing the mess. The pouch includes a pad for absorbing liquid and reducing the odor.
Daymond John tries on one of the bibs, to the delight of the other Sharks. Laying aside the humor for a moment, Kevin O'Leary wants to know the cost of creating the product. Cookson explains that the cost of manufacture is $.19. He created the prototypes himself, from household materials, and has been marketing them through the website. He's managed to sell about 160 units.
When Daymond John hears Cookson has only invested $1,300 of his own money, he says "I couldn't give you $30,000 for this." He's out. Kevin O'Leary isn't interested in getting into the "barf bags" business. He's out.
Jeff Foxworthy is concerned about the liability of putting a bib around a child's neck. He likes Cookson, and wishes him "all the best," but he's out. Robert Herjavec shares Foxworthy's concern for the safety of the product. He's out. Only Barbara Corcoran remains. She remarks, "I have a five year old, and I can't imagine putting this around her neck. I'm out."
The final Shark has spoken, and Cookson leaves the Shark Tank with no deal.
Carsik Bib Shark Tank Update
Despite Cookson's determination to pursue his product, it does not appear that he was successful after his loss in the Shark Tank. Currently, the website for the Carsik Bib shows a Kickstarter campaign for an entirely different product. It seems as if Cookson has a strong talent for invention, but not so much for sales and business. His dream of selling the Carsik Bib have been overshadowed by his other inventions. Perhaps if he sold the idea to a manufacturer who could take the product to market, he might become successful, but it's clear that, at least for now, the Carsik Bib is just a pipe dream. Daymond John counts the CarSik Bib as one of the more memorable pitches he's seen in the Tank – for all the wrong reasons!
For a few years, Cookson used the notoriety of the Carsik pitch to promote his site called Ancient Magic Art Tools where he sells optical toys, camera accessories, and more. The Carsik website now redirects to a Kickstarter page that funded a "camera obscura" back in 2017. Cookson gets a second shot in the Shark Tank in  episode 1321 where he  pitches his Lucy Drawing Tool.
Posts About CarSik Bib on Shark Tank Blog
CarSik Bib Shark Tank Pitch by Les Cookson
CarSik Bib Information