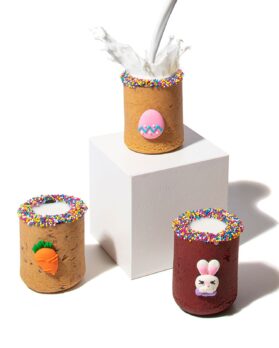 Shahira Marei wants the Sharks to bite on Dirty Cookie, her stuffed cookie and cookie shot glass company, in Shark Tank episode 1321. Cookies and baking are not what she thought she'd be doing with her life. For most of her adult life, she was a project manager for big corporations like IBM and Boeing. In January, 2015, she left the corporate world and got into the cookie business. A Boeing engineer 3D printed molds for the cookie shot glasses and the rest is history. She opened a brick and mortar store that July, but she closed it that December to focus on her online sales.
The cookie shot glasses are baked in the mold, then lined with chocolate so liquid isn't absorbed by the cookie.  People put milk, Bailey's, Kahlua and other drinks in their Dirty Cookie shot glasses. The stuffed cookies are cookies stuffed with Nutella, marshmallows and more. Shahira makes holiday and birthday themed shot glasses and even does custom work for corporate gifting. At $35 for a  half dozen, they aren't cheap.
Shahira has a heart, too. As a child, she was impacted by the impoverished children she saw on a visit to Egypt. Now, a portion of each sale goes to education focused non profit organizations. She hopes to lift children out of poverty through education. She's also working on a natural way to preserve her cookie shots so she can sell in retail locations. A Shark can help with that.
Company Information
Video

Posts about Dirty Cookie on Shark Tank Blog
The Dirty Cookie – Cookie Shot Glasses
Dirty Cookie Shark Tank Recap
Shahira enters the Shark Tank seeking $500,000 for 5% of her company. She pitches the edible gifting angle and introduces the cookie shot glasses. The Sharks try their samples. Robert likes his, so does Lori. Shahira talks about her background at Boeing. She was inspired to make the cookies by a Pinterest post.
A dozen cost $49.99 and costs $12.82 to make. Customers can use customizing kits for holidays, birthdays etc. 2018 sales were $300,000. 2019 was $345,000. 2020 was $1.27 million. When Covid hit, she introduced the custom kits and business exploded. In 2021 she'll do $2.6 million and earn $250,000. The reason for the poor profits is everything is hand made. She wants the Sharks' money to buy a $400,000 machine that will automate things for her. With ten people, she can make 15,000 cookie shots per week. The machine can make 4000 per hour. Last year, they had to shut off advertising because they didn't have the capacity to keep up with orders.
When Robert questions the valuation, she says she multiplied $2.6 million by four. She has licensing deals in place with FTD and in the works with 1-800 Flowers. She has half a million in debt and is the 100% owner and wants to get to $6 million in 2022.
Mark says she isn't capital efficient; he's out. Kevin says the cost of goods needs to be lower; he's out. Daymond doesn't like the profits; he's out. Robert is scared by the flaws in the business; he's out. Lori likes the concept and how she pivoted. Shahira says she'll never give up; she wants to prove she can make it to her father. Lori offers a loan of $250,000 at 8% interest and $250,000 cash for 25% of the business. Shahira wants to give 15% equity to her COO. Robert comes back in and offers $500,000 for 30% but if she does $6 million in 2022, the equity goes to 15%. Lori will match Roberts offer with the loan and the $250,000 for 30% equity. Robert counters with $500,000 for 25% and he goes to 15% if she sells $6 million. Shahira takes the deal.
Dirty Cookie Shark Tank Update
The Shark Tank Blog constantly provides updates and follow-ups about entrepreneurs who have appeared on the Shark Tank TV show. After the show it was revealed that in June 2021, Dirty Cookie entered into a promotional partnership with Nuts 'n More, a company Mark and Robert invested in back in season 4. As of the first re-run of this episode in July, 2022, the deal with Robert has not closed. In November, 2022, the business was featured on Good Morning America's "Steals and Deals on Thanksgiving Day. As of December, 2022, the deal still hasn't closed and likely won't. Shahira valued her business at $10 million when she appeared on Shark Tank but reliable revenue figures are unavailable at this time.
The Shark Tank Blog will follow-up on Dirty Cookie & Shahira Marei as more details become available.