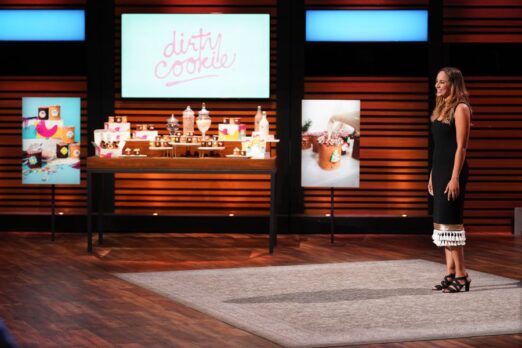 Shahira Marei invented The Dirty Cookie, in part, to make a difference in  the world. She was very concerned when she took a trip to Egypt with her dad and encountered kids her own age (10) living in impoverished conditions out in the streets. When she asked her dad for money to give to them he said no, the best way to help them is to give them jobs. After working in the corporate world as a project manager for a little over a decade, that's what she decided to do. One day she asked a Boeing engineer friend of hers to make a cookie baking mold on the 3D printer and the rest is history.
Shahira had the molds made in the shape and size of a shot glass. She baked the shot glasses then glazed the interior with chocolate. People were now able to fill their cookie "glass" with milk or any other beverage they fancy, then have a nice cookie chaser. She opened a shop in the summer of 2015 only to closed it up before the end of the year to focus on online sales. The cookies were a big hit and she's been on The Today Show, Good Morning America, The Food Network, The Cooking Channel and now she's coming into the Shark Tank.
What does all this have to do with solving the poverty problem you ask? Shahira, like me and a lot of other people, believes education can lift people out of poverty. That's why a portion of each sale goes to organizations that provide educational resources to under privileged children. She may not be giving them jobs per se, but she's giving them a vehicle to get a good job. She's doing pretty well for herself too. Apparently during the 2020 Covid-19 pandemic, her sales increased 2.5 times and she shipped Dirty Cookies to over 35,000 customers. Now, she wants a Shark's help to take The Dirty Cookie to another level.
My Take on The Dirty Cookie
I think this is a clever concept: you get your milk and cookies all in one vessel. Her stuffed cookies look positively decadent too. I'd like to try a cookie shot with some Bailey's Irish Cream. That's a cookie with kick. They must be pretty good if she has all those customers.
The one thing that just kills me about this business is the pricing. The cookies are only available on her website and they cost $35 for a half dozen! That's almost six bucks per cookie and holiday themed cookies are $45 for a half dozen – and those prices are before shipping is calculated. That' a pretty expensive indulgence, even if they are delicious. I think it's a cool idea, but at those prices, I have to be out.
Will Sharks Eat These Cookies?
I believe the Sharks will have the same concerns I have about the pricing. That said, sales speak volumes in the Shark Tank. If those sales and customer acquisition costs are there, there could be some interest. The only Shark I see even thinking about making a bid is Mr. Wonderful. A big part of Shahira's sales strategy is the gift market. With Mr. Wonderful's wedding related platform, this could be a good fit. While folks might not go out and buy $6 cookies for themselves, they might do it as a gift for others on a special occasion (like a wedding).  Expect a royalty laden offer from Kevin. If she doesn't get one from him, I think she leaves with nothing.