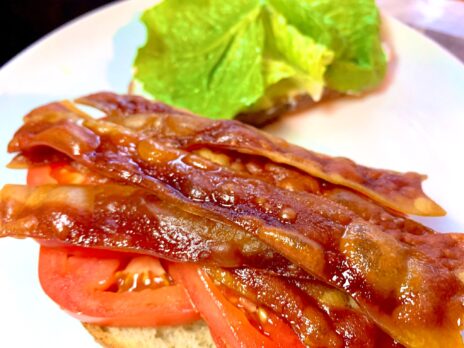 Beth Zotter and Amanda Stiles created Umaro Foods, their vegan bacon business, to have a marketable product for their seaweed farming endeavors. The two women are working on developing seaweed farms to use as a food source, specifically a protein source. They believe seaweed can provide the world with more than enough protein for every man, woman and child on the planet. Seaweed basically grows itself – it doesn't need watering, cultivation or fertilizer.
Pretty much every carnivore likes bacon, so that was a logical starting point for them. They are pre revenue but plan on supplying their vegan bacon to the food service industry by the end of 2022. They first got interested in seaweed while researching how it could be used as a synthetic bio fuel. They lean toward using red seaweed because it looks like meat and, when processed, has a similar texture.
Apparently, they aren't the only folks who believe in  seaweed as a protein source. Just a few weeks ago, Umaro Foods raised $3 million in a venture round from Clear Current Capital, a company that invests in plant based protein businesses. If plant based protein is the future, these two women are prepared to be one of the players in the space. They likely want a Shark to help them build out their farming enterprise.
My Take on Umaro Foods
I have tried many plant based "imitation" foods. A few years ago when Burger King introduced their vegan burger, I tried it out. If they hadn't told me it was vegan, I wouldn't have known. I also love Snacklins, a vegan pork rind company Mark invested in back in season 11. I also like seaweed itself. we regularly buy these seaweed crisps for snacking and I always get a seaweed salad at Japanese restaurants.
As far as bacon goes, I LOVE it. If they can pull it off and make it taste like real bacon, I am so IN! The pictures look good enough to eat. I'll definitely try it when it becomes available. I am not against eating vegan, but I reserve the right to eat a steak now and then.
Will Sharks Like Seaweed?
The fact that they are pre revenue will hurt them in the Shark Tank. Pre revenue businesses often have a lot of investors and the Sharks don't like that. The entrepreneurs usually don't like the Sharky offers they get too. So I don't think they'll get a deal.
Their only hope is Mark. He's down with the whole alternative protein thing as evidenced by his investment in Chapul. That business wasn't pre revenue, but it didn't have a lot of revenue when Mark invested. Chapul is also getting into their own version of farming. If Mark sees the vision and can get a decent slice of the pie, he may invest. If he doesn't, I don't think there's a deal.