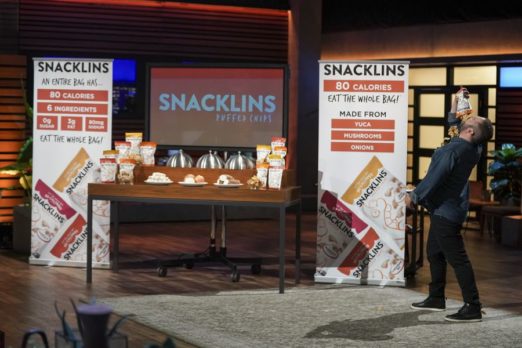 Samy Kobrosly hopes the Sharks bite on Snacklins, his vegan "pork rinds," in Shark Tank episode 1105. Kobrosly is a Washington DC area DJ who likes hanging out at his favorite BBQ joint. One night while sipping whiskey with the chef, they started joking that it would be funny to make a vegan pork rind (or "cracklin"). After they stopped laughing, they realized it would be a cool idea. The result was Snacklins.
Samy and his chef friend spent several months figuring out how to make vegan pork rinds. The ingredients include yucca, mushrooms, onions and either soy-ginger or barbecue sauce. The concoction is fried in sunflower oil and it retains a crispy, cracklin crunch and superior taste.
Snacklins are gluten-free, low calorie, non-GMO, vegan, dairy-free and paleo-friendly. They have far fewer calories than other snack foods. At only 80 calories a bag, Kobrosly encourages customers to "eat the whole bag." Compare that to a similar sized bag of Doritos at 150 calories a bag and you can see the difference. They also have far less fat and sugar than other popular snack foods.
Snacklins started out in mid-Atlantic health food stores and grew from 100 stores to over 1000 very quickly. They're now in Wal Mart and on Amazon. Kobrosly is redoing the packaging to actually make the product look more like junk food than health food so he's less "in your face" with his customers. He likely wants a Shark to help him blow up the brand. Will Sharks like this snack?
Company Information
Video

Posts about Snacklins on Shark Tank Blog
Snack-lins – Vegan "Pork Cracklin"
Snacklins Shark Tank Recap
Samy enters seeking $250,000 for 2.5% of his business. He explains the product and its low calorie count and hands out samples. The Sharks like the taste. Samy wants a strategic partner to keep from getting knocked off by a big brand. He also needs money to expand his kitchen capacity. While Samy says he's 11 months away from profitability, he expects to close the year with $2 million in sales.
The Sharks like the snacks, but not the valuation. This prompts Samy to explain he only owns 30% of the company. The first employees each got 10% and he raised $1.5 million from other angel investors and family members. All the Sharks, except Mark, were concerned that Samy wanted too make his own factory. Mark cites the success of Alyssa's cookies which did the same thing.
Mark wants to make an offer and he says he wants to be fair. He offers $250,000 for 5% plus 5% advisory shares and Samy accepts.
Snacklins Shark Tank Update
The Shark Tank Blog constantly provides updates and follow-ups about entrepreneurs who have appeared on the Shark Tank TV show. This deal closed with Mark. There are now many national and regional chains stocking the product including Erewhon, Stop and Shop, Whole Foods and many more. They are also on Amazon.
In December, 2020, the company completely rebranded its packaging and introduced larger, multi-serve packages. Snacklins CEO Kevin Blesy told Forbes:
"We know that now, more than ever, brands need a strong and consistent visual identity across all channels…So, we partnered with a creative agency to land a packaging design that better suited the Snacklins brand. The new Snacklins brand system is centered on a series of stylized mouth designs, which we believe celebrate the unique flavor and texture of our signature plant crisps, while offering a visual differentiation on shelves and online. In addition to pack changes, we also knew we wanted a flavor lineup that was completely free of the most common allergens, so we replaced our previous flavor Miso Ginger (contained soy) with a new flavor, Teriyaki. Finally, customers and retailers have been requesting a larger, multi-serve pack size for years, so we finally brought this to life. We are launching this 3oz multi-serve package at Whole Foods in the Northeast and Mid-Atlantic regions in early 2021."
In addition to the aforementioned retail outlets, you can find the product in MOM's Organic, and select Shop Rite locations.
As of July, 2021, the company projects $10 million in revenue for 2021 – up from $3 million in 2020.
The business gets an update segment in season 13, episode 1306. In the update, Samy and Mark share a Zoom call. Samy tours his production facility and says he's rolled out to over 2500 stores including Whole Foods, Stop&Shop, Erewhon and more. Mark says he loves the product and that whenever he sees a food business on Shark Tank, he looks at the nutrition label. Mark loves the product itself and the investment he made.
As of April, 2022, the company beat its projected earnings for 2021, bringing in $13 million.
*editor's note: I've tried these and buy them regularly. They're delicious.