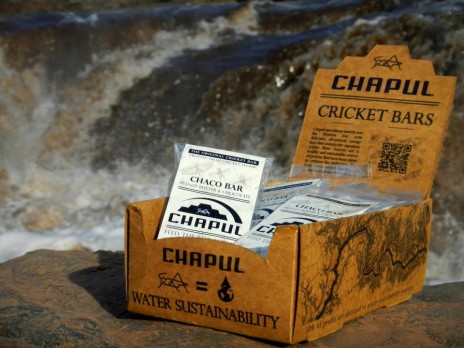 Pat Crowley hopes the Sharks bite on his cricket powered protein bar line, called Chapul, in episode 523 on March 21. Crowley, a whitewater rafting guide, became interested in eating insects in 2011 when he began learning about how packed with protein they are and how eating insect protein could help sustain the world's water supply. Agriculture uses over 90% of our water supply; eating insects could drastically reduce that. Insects convert their food into protein 10 times more efficiently as cows and pigs, making them a super food (and a super food source). In many parts of the world, insects are a delicacy!
Crowley started making Chapul Energy Bars in 2012. He got some start-up capital from a successful Kickstarter campaign where he raised over $16,000 (he was only asking for $10K) Chapul bars harness the protein in insects – specifically crickets – using a special cricket flour. With flavors like peanut butter & chocolate, dark chocolate with coffee and cayenne, and coconut ginger lime, there's something for every palette. It's been said 80 percent of the world's population intentionally eats 1,700 species of insects for food, but Americans aren't big on bugs – yet. Pat Crowley wants Chapul bars to be "a simple, tasty introduction to a novel delicacy."
Pat probably wants the Sharks' help "getting the word out" and approaching national retailers.
Chapul Shark Tank Recap
Chapul opens with an at home segment with Pat atop a snowy mountain. His concern for the future of the planet inspired him to make an eco-friendly energy bar. He's working in a small kitchen, making his protein bars by hand. He alludes to a "secret ingredient," and says his growth can't keep up with demand. He needs an investment to increase production and to help get the word out. Pat wants to propel his protein as the food of the future.
Pat enters the Tank seeking $50K for 5% equity. He's changing the way people think about food. The sustainable protein is the food of the future. When he reveals that crickets are the protein in his bars, the Sharks are disgusted. Pat hands out samples and explains he makes flour out of the crickets.
Mr. Wonderful says there is a huge barrier, many consumers won't eat insects. Pat modeled the cricket bar after the sushi industry. 30 years ago, Americans didn't eat sushi and found the idea of eating raw fish disgusting. Last year, Chapul had $50K in sales and this year they are seeing a 30% increase in revenue month over month. He sells the product in natural food stores, bike shops, rock climbing gyms, cross-fit gyms and other locations.
Mr. Wonderful asks why it's worth $1 million and why can't he get his own crickets and make his own bars. Pat says he's spent a lot of time working with recipes and the FDA and he's the only company with a nutritional, insect-based product on the market. Each bar costs $1 to make and sells for $2.99. He gets his crickets from a cricket ranch. Part of the reason Pat chose crickets as his protein base is the infrastructure to grow them on a large-scale is already in place.
Who's In?
Chapul is an Aztec word for crickets. The Aztecs made flour out of crickets. Robert says there is no way he's eating bugs; he's out. Mr. Wonderful knows about the importance of crickets worldwide, but he says the crickets are telling him to stay out of the deal; he's out. Barbara thinks it's too long of a journey; she's out. Daymond can't wrap his head around it – he's spent most of his life trying to get away from bugs; he's out.
Mark asks "OK, Jiminy," there is no competition at all for cricket flour? Pat says there are other cricket companies that don't have a product and have asked Chapul to sell them the flour. Mark likes the idea of being the flour supplier and branding it as "made with Chapul Flour."
Robert likes the flour business. Pat hasn't sold flour yet because he hasn't figured out infrastructure. Mark asks Pat to negotiate and explains he owns 80% of the business. Robert says he'll do $50K for 20%. Mark says he'll do $50K for 15% and they shake hands!
RESULT: DEAL with Mark for $50K for 15% of Chapul
Chapul Shark Tank Update
In spite of the Shark's doubts about cricket-flavored energy bars, and Robert's insistence that selling the flour, rather than the bars, is the secret to success, Chapul has recently rolled out in 3,000-4,000 new retail outlets. The social media is active and thriving, and the blog is regularly updated, all good signs of a healthy and growing company. The cricket-based protein bars have been a big hit with consumers interested in "green" eating choices, and several large retailers have expressed interest in the line as well. While crunching on crickets might not be everyone's idea of a tasty snack, Chapul is hopping onto the scene as the next solution to the world's need for cheap, renewable protein.
In episode 716 in season 7, Chapul was the featured "update segment." Pat tells the viewing audience "Chapul cricket bars are hopping off the shelf!" The product is in all 217 Sprouts stores; they are the first major retailer to carry insect bars. To date, they have $750K in sales and they're on track for $1.5 million this year. Pat became a dad since he aired and he wants to continue to make the world a better place. Thanks to Mark and Shark Tank, it's happening!
In 2016, Daniel Lubetsky of Kind Bars fame invested an undisclosed amount in the business. This was long before he became a guest Shark. In 2019, Chapul got out of the protein bar business when his co-packer went out of business. The company now only sells the cricket flour. Pat is working with a group that helps new insect farming ventures in Indonesia get started. As of January, 2022, he has $5 million in lifetime sales.
In February, 2022, the company raised an additional $2.5 million from Mark Cuban, Daniel Lubetzky and Nexus PMG. The funds will be used to  create and build the Chapul Farms' Insect Innovation & Research Center in McMinnville, Oregon. The facility will use black solider fly larvae to consume food waste and upcycle food to prevent it from ending up in landfills. The insects produce larvae, used in human food and animal food products as protein, and insect manure (frass), used as an alternative to synthetic fertilizers.
Chapul gets an update segment in episode 1320. In the segment, Pat says he was in over 500 stores with the bars, but he wasn't getting people to buy again. Then he talks about the co-packer going out of business. Next, he talks about the new farm and how he came to meet Daniel Lubetzky. The company has $2 million in lifetime sales. The new farm will be ready in 2023 and will provide 70 jobs. Once operational, it should generate $20 million in sales per year.
By November, 2022, the bigger picture became clear. The company is in the business of building insect farms. Chapul is, at this time, building seven of these farms which are in "the latter stages of development."
Posts About Chapul on Shark Tank Blog
Chapul Information
Video