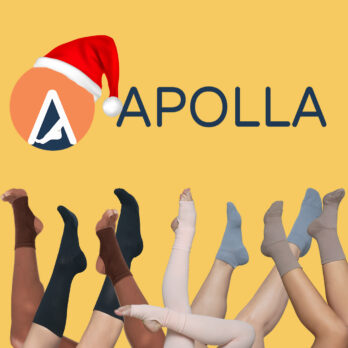 Kaycee Jones and Brianne Zborowski originally created Apolla, their line of compression socks, to provide more support for dancers. Ballet and other professional dancers put a lot of pressure on their feet and the women wanted to make a product that would help with that problem. They spent years learning how to do manufacturing and design and they built their business slowly.
Dancers need arch support, ankle stability, energy absorption and traction and Apolla compression socks provide it. The socks come with or without the traction feature, but they all provide support. The traction option requires an adhesive spray which they also sell. They are popular with many prominent dancers and some NHL players wear them too. Apolla socks are so good, they received the American Podiatric Medical Association's Seal of Acceptance.
They're made out of REPREVE, a material made from recycled plastic bottles. The socks have a pad in the heel to aid in energy absorption. There's also an arch support. The ankle support is comparable to taping your ankles. You can buy Apolla compression socks at hundreds of dance wear stores world wide. They're also available on the company website and Amazon. The women likely want a Shark to help them break out of their dancer's niche.
My Take on Apolla Compression Socks
At first I was shocked at the price. At $70 a pair, they're not cheap, but as a father of a former dancer, there is nothing cheap about dance wear. You definitely don't want to lose these socks in the dryer!
I wear compression socks when I fly, drive long distances and I like to wear them when I go for a walk. I have flat feet, so the compression and added support help me out. They're also good for circulation. I didn't pay $70 for mine, but then again, I'm no dancer. I might take a flyer on a pair of these to see if they are superior to the compression socks I own. I'm willing to pay extra for good quality.
Will Sharks Sock it to this Business and Invest?
I am wondering why these women are in the Tank. They have a global business, so they must know what they are doing. The only thing I can think of, as I mentioned above, is they need help breaking out of their niche. That could be a blessing or a curse. The Sharks generally shy away from niche businesses, they want businesses that appeal to the masses that can scale.
That said, the only Shark that could help them is Emma. She is in the clothing space and could provide value. Mr. Wonderful could make a royalty offer if they're profitable. My sense is they'll come in with a high valuation that will scare the Sharks off.