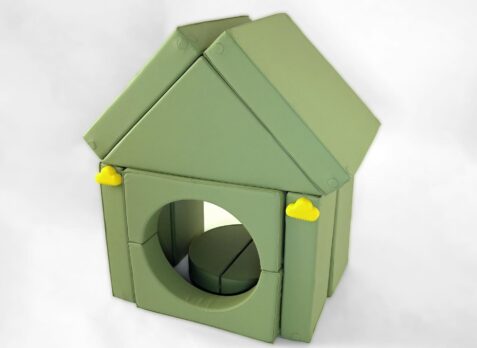 Anyone who was ever a kid has probably made pillow forts. You know the kind: you take some couch cushions and stack them up, maybe even put a sheet on top for the "roof." The problem with those is they aren't very stable. Conor Lewis saw that as a solvable problem when he was observing his wife and son making one so he wrote "magnetic pillow forts" into an "ideas" document on his phone.
He forgot about it until March, 2020 when he was let go from his job as a marketing and communications director for a municipality. Since the world was in lockdown due to the Covid-19 pandemic, he started researching how he could design his vision of a magnetic pillow fort. Within a month or so, he had a design and had contacted a factory to make them for him. He called his company Fort.
He got the company going with an astounding $3,107,079 he raised on Kickstarter. His random idea was quickly turning into a very profitable business. The pillows are very much like couch cushions, in fact the Fort can be configured as a couch when the kids aren't playing with them. At $499 for a 12 pillow set, it costs as much as a couch! The cushions are made with polyurethane foam and leather. They're water proof and pet friendly too. The secret sauce is the powerful Neodymium magnets embedded in the pillows. They're strong enough to keep the fort together, but they easily come apart when you want to change things up. Companies that grow so quickly often have problems managing that growth. A Shark could help with that.
My Take on Pillow Forts
When we were kids, my brother and I were always making forts of all kinds, including pillow forts. We'd sleep in them and leave them up for days. That was good times – we would have LOVED this Fort! I remember my kids making forts when they were little – they would have loved Fort too.
Apparently, lots of people like this idea – the $3 million plus raised on Kickstarter proved that. Conor made the most of the pandemic, too. People were stuck at home and the  kids needed stuff to do. With all that stimulus money floating around, there was plenty of disposable income for indulgences like this. Getting let go from his job was a blessing in disguise.
Will Sharks Build a Fort?
I can guarantee one thing: Mr. Wonderful will make a royalty offer. Whether it's accepted or not remains to be seen. Customer acquisition costs and margins will play a big role in whether or not Conor gets a deal too. If those are in line, there could be a feeding frenzy.
All the Sharks except Lori have kids, some – like Robert and Emma's, are still young enough to enjoy this product. That could entice them to make offers. Mark will probably see it as a "product not a company." While it is very demonstrate able, Lori will likely be turned off by the high price tag.