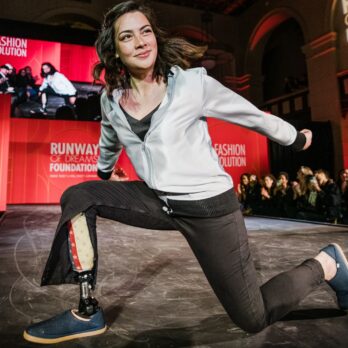 No Limbits adaptive clothing founder Erica Cole created her first product out of necessity. Imagine you're driving along and the next thing you remember is waking up in the hospital and your leg has been amputated. It would be rough on just about anyone, but Cole saw an opportunity. While getting used to dealing with her new prosthetic leg, she found she couldn't get into her jeans because of the bulkiness of the limb. So she cut them open and put zippers on them.
At the time of the accident, she was a chemistry major at Iowa University where she was also a costume designer for the university's theater department. It's the costume design skills she put to work to create her line of adaptive clothing. She entered, and won, several pitch contests for her business. At first it was kind of a side hustle, but when she got accepted into the Target Incubator program, she ditched plans of pursuing chemistry as a career and went all in with No Limbits.
Erica raised $14,236 on Kickstarter. She also got a $50,000 grant from Arch Grants. She used the funds to create adaptive clothing for both men and women. In the Target program, she met people who had kids with sensory issues, so she's planning on making clothing that will accommodate them. There are also plans for clothing for people with wheelchairs. She likely wants a Shark's help building out inventory.
My Take on Adaptive Clothing
Hopefully I will never be a customer of this business. Erica's experience after the accident must've been horrific. A friend of mine was recently in a bad accident. Luckily, she only broke a finger (you wouldn't believe it if you saw the car), but she was very traumatized by the incident. Losing a limb must have been awful.
I admire Erica's spark though. Not many people could pivot from a situation like that and start a business. This business will actually help people too. I fish with a couple of amputees at the pier. The were very interested in these clothes when I sought their feedback on this business. I hope I never need this product, but I hope Erica gets a deal.
Will Sharks Adapt and Make an Offer?
I think all the Sharks will admire Erica and be touched by her story, but it might not result in a deal. Mark has been out on pretty much every clothing company for the past few years. Mr. Wonderful will think it's a niche within a niche. Robert could make an offer as he's bought into several online clothing businesses, but I don't think Erica takes it.
Lori is touched by products like this so I think she and Emma will team up and make an offer. They've teamed up several times this season already and this will be the next one. Lori might even break out her "golden ticket."