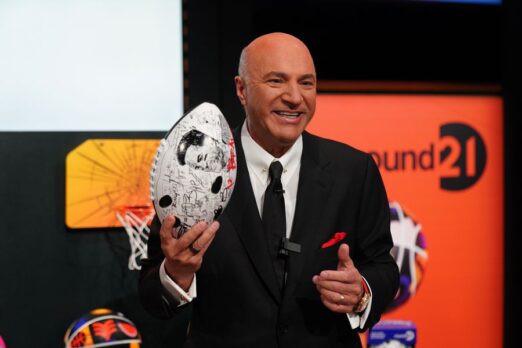 Round21 creator Jasmine Maietta has played basketball at every level, including a year in a woman's professional basketball league in Spain. She's also coached the sport at the high school and college level. Couple that with a big time professional career as a branding expert at Under Armor, Reebok and others and she has the chops to run a sports related business. The company name means "round" for community, "2" for collaboration and "1" for the individual. Her business is putting custom artwork on basketballs, footballs, soccer balls and ping pong paddles and it's booming. She has licensing deals with the NBA and NFL players associations and others.
What she does is create limited edition artwork on the aforementioned sports gear. In the photo above, Mr. Wonderful is holding a custom Tom Brady football. There are all sorts of artwork on her various types of balls from street art to flowers and the licensed likenesses of a growing list of NFL players. She does "drops" where a limited amount of artwork is made available. Once it's gone, it's gone.
When she started the business in 2020, she started by putting art on ping pong paddles. She chose them because it's an accessible sport. Over the following months, she used her connections to get the other products on board. They cost a bit more than a standard ball. For instance an NFL football with a team logo costs $29 on Amazon. The Tom Brady limited edition football by artist Dwight White costs $150. Of course that ball is designed for a display case. The basketballs are more in line with regular balls and are designed for play.
My Take on Round21
I think this is a cool business. I am a HUGE Tom Brady fan as I grew up a Patriots fan. I was psyched when he went to Tampa, my "new" home team. I am still a Patriots fan, even when they play the Bucs which is once every four years. I think the other equipment is cool too.
I probably wouldn't buy any of this stuff, unless it was for a gift. If you have a sports fan in your life, they make good gifts.
Will Sharks Play Ball?
Normally, if a product like this came into the Tank, the Sharks would be talking about licensing, but Jasmine's already done that work. Obviously, she'll catch Mark's attention with the basketballs, but that won't necessarily induce an offer. As for the other Sharks, I don't really have a clear opinion on this one.