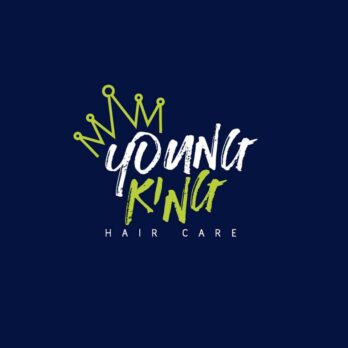 Stefan and Cora Miller's Young King Hair Care, a line of hair care products for men and boys of color, is the latest black owned business to be featured in season 13. The couple created the line in 2019 when they couldn't find satisfactory, all natural hair care products for their own boys. Like any self respecting entrepreneurs, they decided to create their own! When they did, Stefan said it wasn't only about products, but culture.
While there are several hair care brands that target adult African American men, there were none that target boys. Boys have the same hair issues as their older counterparts, so the Millers knew they were on to something. Target thought they were on to something too and they put Young King Hair Care products into around 450 stores with the Target accelerator program. They're also the best selling hair care products for boys on Amazon.
Stefan, who has a background in branding with some pretty big companies, knew he wanted his product to "elevate the positive image of black boys across the globe." The couple specifically designed their packaging to be "boy forward." The "king" in Young King is a nod to the great kings of the African past. As for the products, there are three that work together. Simply massage the leave in conditioner into your hair, then follow that with curling cream and essential oils. This gives boys with a natural look and nice, tight curls. While the Millers may have their branding down pat, I'm sure they'd love it if a Shark gave them some cash for inventory and help with getting into more stores.
My Take on Young King Hair Care
As a white man with a shaved head, I will never have a need for this product. When I was a kid, I had rock star curly hair. Women would literally come up to me on the street and run their fingers through my hair. Ah, the good old days. I do find it a bit ironic that Stefan, like me, sports a shaved head.
I get what the Millers are trying to do. They recognized a void in the market and moved in to fill it. There are a lot of hair care products aimed at black girls that are probably similar to  theirs; the difference is the branding. It appears they know what they're doing.
Will Sharks Crown This Product and Invest?
The Sharks have invested in hair care products in the past, but to date only one of those deals closed. Mark invested in Hot Tot way back in season 4 and guided the company through the testing process. One closed deal for a hair care product isn't a good track record, but maybe Mark will make another offer since it doesn't compete with Hot Tot.
Back in season 10, Robert offered $400,000 for 20% of Curl Mix, another hair care line for people of color. His offer was declined, but he said he liked the entrepreneurial drive of entrepreneurs Kim and Tim Lewis. Maybe he'll make an offer here too.
I doubt Lori or Mr. Wonderful will jump on this, but Daymond might. Even though his head looks like mine, he's been know to help out other black entrepreneurs, though his offers are often very "Sharky."