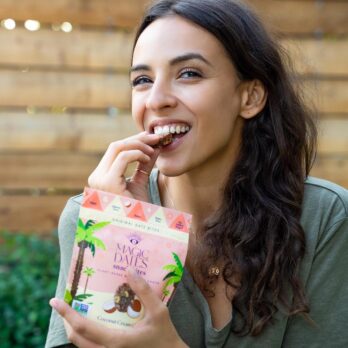 Diana Jarrar created MAGICdATES because she wanted to bring the yummy, nutritious snack she grew up eating to the rest of the world. She grew up in Syria before immigrating to the USA via Canada. Her favorite snack was always dates. In a way, dates are the perfect snack. They are high in phytonutrients, antioxidants, and fiber, dairy-free, gluten-free, non-GMO, paleo-friendly, Kosher and have no added sugar. Your body craves sugar and dates give it to you in a natural, unrefined way. They are sometimes called "nature's candy."
Jarrar started selling her MAGICdATES in 2016 after working as a realtor and caterer. Since she was a Palestinian refugee living in Syria as a child, she gives a portion of her profits to the Karam Foundation, a non-profit that helps refugees impacted by the Syrian Civil War. The business must be doing OK as she's been at it 6 years and has a vital Amazon Store.
The product itself looks delicious. The dates are grown in California and they come in several flavors: salted walnut brownie, lush lemon bar, coconut cream cake, choco coconut cookie, triple choco crunch, choco hazlenut truffle and blueberry choc dream. There are no artificial ingredients either. For instance, the salted walnut brownie bites contain walnuts, dates, shredded coconut, coconut butter, cacao nibs, organic coconut flour, cocoa powder, coconut oil, natural vanilla flavor, cinnamon and pink Himalayan salt. While she is in some stores, she likely wants a Shark's help getting into a lot more.
My Take on MAGICdATES
I LOVE dates. Every Christmas, my mother makes a date nut bread. I remember stealing dates while she was making it when I was a kid. I get them every once in a while as a snack. I never knew they were good for me though! I am definitely trying these – in fact, I just ordered the walnut brownie bites on Amazon. I'll let y'all know how I like them when I do a Magic Dates Shark Tank Update.
Do Sharks Like These Bites?
Food products on Shark Tank range from decadently indulgent to good for you treats. I'd classify MAGICdATES as a combination of both.  3 out of the 5 Sharks on tonight's panel don't "do" food businesses. The only food company Kevin ever invested in was Wicked Good Cupcakes and that was way back in season four. Robert has never invested in a food related business and the last one Daymond invested in was PRO NRG, also in season 4 (and it didn't end well).
Lucky for Diana, both Mark and Lori have a history of investing in food products, especially healthy ones. While I won't list every investment, Mark did invest in Wanna Date, a date based spread business. Whether that's a plus for Diana or whether Mark will view it as a conflict of interest remains to be seen, but Mark could bite. Lori also invests in food businesses, so she could bid too. I'm not sure if Diana gets a deal, but if she does it will be with Mark or Lori.