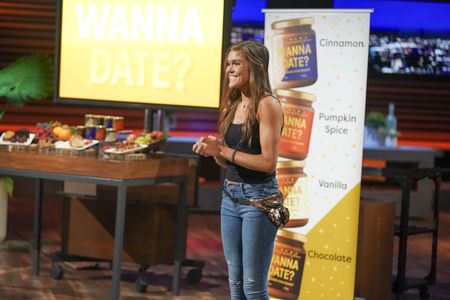 Melissa Bartow wants the Sharks to taste Wanna Date, her vegan date spread line, in Shark Tank episode 1112. Bartow loves fruit and she discovered dates when she went off to NYU. Eventually, she got a job at what she thought was a health food shop. Unfortunately, she found out that the acai bowls they served had more than 15 grams of sugar in them. She thought her new favorite fruit – the date – would make a better natural sweetener.
The first concept for Wanna Date grew out of the job at the acai bowl shop. She envisioned a nut butter, but with dates, so she started experimenting. The first batches of Wanna Date were concocted in Melissa's dorm room. From there, she just kept brainstorming and decided to see if anyone else was interested in her date nut butters.
Melissa made a video of friends on a "blind date." The were blindfolded and tasting some of her products. She used that video to raise money with crowdfunding. Wanna Date funded their first co-packing run with $2250 raised on IndieGoGo back in March, 2018.
The product comes in five flavors: original, vanilla, pumpkin spice, chocolate and cinnamon. Each jar costs $12. At only 30 calories a serving, its a great way to satisfy a craving for sweets without processed sugar. Dates are a "super food" packed with vitamins, minerals and fiber. Melissa wants to share the deliciousness of dates with the world and she'd love if a Shark came on board.
Company Information
Video

Posts about Wanna Date on Shark Tank Blog
Wanna Date Shark Tank Recap
Melissa enters seeking $100,000 for 20% of her business. After sharing her business and some samples, Melissa gets down to the numbers. So far, she has only $31,00 in sales in ten months. Each jar costs her $2.40 and sells for $12. She thinks she can get her cost down to $1.80 with more volume.
The Sharks, particularly Daymond, are concerned with her complete lack of market research. Barbara thinks she can't be a real entrepreneur because she's supported by her father – a comment which Barbara took a lot of criticism for. All the Sharks except Mark go out.
Mark decides to make a conditional offer: he'll do $100,000 for 33% if Melissa makes the jars smaller, less expensive and if she adds a plain date flavor. Melissa agrees and accepts Mark's offer.
Wanna Date Shark Tank Update
The Shark Tank Blog constantly provides updates and follow-ups about entrepreneurs who have appeared on the Shark Tank TV show. In the two months since the episode originally aired, Melissa has increased her Amazon presence and appears to have harnessed the Shark Tank Effect. As of March, 2020, there is no evidence on Mark's website that the deal has closed yet, but Melissa has publicly asked Mark to take her to a Mavs game!
In August, 2020, it appears the deal has closed.  The company introduced Date Dough, doughs you add water to and bake treats with. The flavors are chocolate, birthday cake and snickerdoodle. With the Covid-19 outbreak, we're unsure if she ever got to that Mavs game. As of August, 2022, the product is in 128 grocery stores including Whole Foods in the mid-west. As of  October, 2023, she only sells direct through her website and Amazon. Lifetime sales are less than $5 million.