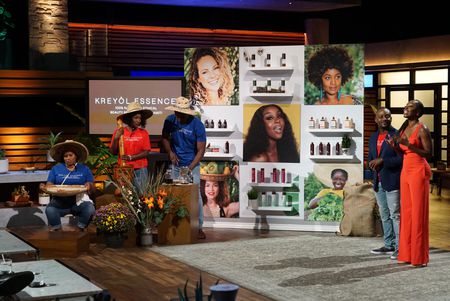 Stephane Jean-Baptiste and Yve-Car Momperousse pitch Kreyol Essence, their hair treatment made from black Haitian castor oil, in Shark Tank episode 1112. Yve-Car grew up in Haiti and remembers her mom washing her hair with her "magic oil" that fixed damaged hair. When ever Yve-Car had a "hairtastrophe," she'd use a little of the oil to get things back to normal.
While in Philadelphia, she had her hair straightened and the hot iron burned her hair. She went looking for some Haitian black castor oil, but couldn't find it anywhere, so she called her mom. They decided to start a business so everyone could share in the benefits of mom's "magic oil." Mom was a big catalyst is starting the business. Yve-Car wanted to put the business on hold in the aftermath of the big 2010 earthquake that devastated Haiti. Mom said they needed to push forward so people could have opportunity instead of charity.
The opportunity Kreyol Essence provides is very real in Haiti. They grow their castor beans on Haitian farms. Haitian women make up the majority of the company workforce, providing jobs and economic opportunity. As the brand grows, so grows the social impact.
The products all contain some of the "magic oil." Haitian Black Castor Oil has is high in Vitamin E, minerals, proteins, and Omega 6 and 9 beneficial fatty acids, which makes it an excellent conditioner for hair and skin. There are a wide variety of products available on the company's Amazon page and prices vary widely, depending on the product. They also have their product in hundreds of stores in the USA and Canada – including many Whole Foods stores. Yve-Car and Stephane appear to have a solid business on their hands. They likely want a Shark to help them get to the next level.
Company Information
Video

Posts about Kreyol Essence on Shark Tank Blog
Haitian Black Castor Oil by Kreyol Essence
Kreyol Essence Shark Tank Recap
Stephane and Yve-Car enter seeking $400,000 for 10% of their business. After explaining their product and handing out samples, the questions start. The couple explains they've been in business since 2014, but changed their business model in 2017 to direct-to-consumer. That was a good move as they did a little over $1 million in sales in 2018 and should top $2 million in 2019.
The Sharks are impressed with a deal with Ulta to sell in 1200 of their stores, but they don't like that the business is $300,000 in debt. Mark, Kevin, Lori and Barbara all have concerns about the debt and the lack of clinical testing and, even though they all like Stephane and Yve-Car, they all go out.
That leaves Kevin. He likes the potential but thinks there's a lot of risk, so he offers $400,000 for 37% of the business. Yve-Car countered with $400,000 for 20% but Kevin wouldn't budge. Next, they decided to speak Kevin's language and counter offer a royalty deal: $400,000 for 5% equity and a 25 cent royalty on every sale, in perpetuity.  Kevin accepts the counter offer and a deal is done.
Kreyol Essence Shark Tank Update
The Shark Tank Blog constantly provides updates and follow-ups about entrepreneurs who have appeared on the Shark Tank TV show. This episode aired in January, 2020 and had its first re-run in March – less than two months later. In the immediate aftermath of the show airing, sales went up 50% and they sold out on Amazon.  While there is no information about the deal closing on Kevin's website, in the aftermath of the original air date, Yve-Car said the company plans to spend $100,000 on search engine optimization, social media advertising, influencer marketing and customer retention.
As of August, 2020, there is still no evidence the deal closed.
As of July, 2021, the deal with Kevin did not close. The company has annual revenue of $4 million.