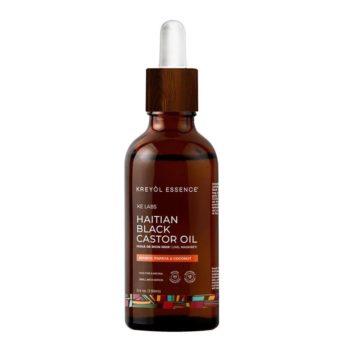 When Yve-Car Momperousse was a little girl, her mother would put Haitian Black Castor Oil in her hair when it got damaged. Whether her hair tore, got frizzed out or even got damaged by harsh chemicals or heat, a little bit of mom's "magic oil" would fix up her hair. When Yve-Car was all grown up and living in the city of Philadelphia, she went looking for some Haitian Black Castor Oil for her heat damaged hair. When she couldn't find any. she decided to start a business: Kreyol Essence.
Kreyol Essence hair and skin care products have Haitian Black Castor Oil as their main ingredient. The oil is made from castor beans grown in Haiti. It's loaded with vitamin E, minerals, proteins, and Omega 6 and 9 beneficial fatty acids. It also contains 80-90% ricinoleic acid which aids in healing and moisturizing skin and hair. The best part is, it's all natural.
Yve-Car was getting ready to start her business when the 2010 Haiti earthquake struck. She wanted to put the business on hold, but her mother didn't want her to. Mom saw the business as an opportunity for Haitians to lift themselves up through work and not handouts. Kreyol Essence employs Haitian women and grows its castor beans on Haitian (and other Caribbean) farms. The socially conscious business contributes to minimizing deforestation, stimulating the Haitian economy and empowering the women they employ.
The products themselves are very popular, too. They have wide distribution all over the USA and Canada at Whole Foods and hundreds of hair salons. Yve-Car likely wants a Shark to help her grow her brand into a much bigger company. Will a Shark want to swim in this oil?
My Take on Haitian Black Castor Oil
As a bald man, I have little use for hair care products. As a husband and father of four girls, I am familiar with the female obsession over hair and hair care products. While I stay away from "the girls' bathroom" in our home, I am acutely aware of the abundance of skin and hair care products in our house. I don't try to understand any of this stuff, I just shave my head and mind my business.
That said, I know my gals like products with natural ingredients. My fifteen year old has even heard of the brand, though there are no Kreyol Essence products in our house. I am willing to bet the girls would like this stuff.
Will a Shark Care to Invest?
I am predicting a Shark fight for this pitch. I think there will be multiple bids and a bidding war will ensue. Yve-Car has built a good business and has a strong brand. They have a good story and good products. If she gets a deal on the show, I can see Kreyol Essence becoming a $100 million business. The question is, which Shark does a deal?