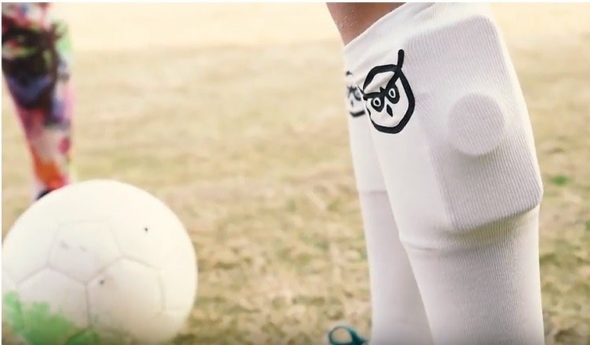 Wise Pockets inventor and founder Sofia Overton isn't like most 13 year olds. Most 13 year olds don't start a business and pitch it on Shark Tank! Sofia is a young lady with a lot of drive and a heart. She started making Wise Pocket Products – socks with pockets – after watching her cousin tuck her cell phone in her boot. Sofia realized a lot of people wear shorts and pants without pockets and thought "wouldn't it be cool if my socks had pockets?"
So she set out to design and manufacture socks with a pocket in them. With $10,000 she raised on an IndieGoGo campaign, she sold her first batch of socks. Now she sells them from her website. She's also looking into selling leggings with pockets, but that's not all she does.
Sofia has a heart. She says there are over 600 kids in her own school district who are homeless. The second most requested items at homeless shelters (after food) is socks. Everytime she sells a pair of her socks, Wise Pocket donates a pair to a local homeless shelter. To date, she's shipped socks to over 25 homeless shelters that serve children.
While Sofia doesn't have retail distribution or a ton of sales, she has a good idea and the drive to get things done. These are things the Sharks like. Will they think this is a wise investment?
My Take on Wise Pocket Products
I think the idea of socks with pockets is a good one. The leggings are an even better idea. My high school aged daughter and all her friends wear leggings all the time. Most of them don't have pockets, so once Sofia starts selling leggings, we are gonna buy a few.
The problem with the socks is there are other products out there. I guess socks with pockets is not a new idea. If I wore socks, I'd pick up a pair or two, but socks don't go well with flip flops, so…..
Will Sharks think it's Wise to Invest?
Obviously Daymond would be a target. He's had HUGE success with Bombas, a sock company that also donates to homeless shelters. He could show interest if the two companies can work together. At the very least, he'll offer to mentor Sofia – something he does regularly with young entrepreneurs.
As for the other Sharks, it's a wild card. Mark often invests in kid businesses if he thinks the kids is sharp. So does Lori. Barbara has invested in kid businesses too. Kevin – not so much. I think if Sofia doesn't snag Daymond, she may leave empty handed unless Mark steps up.