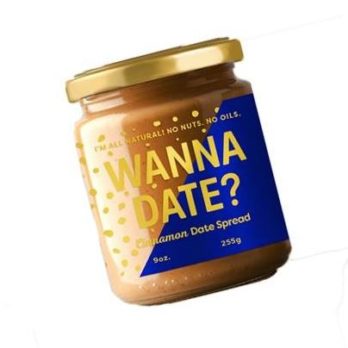 Melissa Bartow didn't go off to NYU to start a date spread business, but that's what she ended up doing. She loves eating fruit and somebody gave her a date to try her freshman year; she LOVED them. Dates are practically a superfood as they're packed with minerals, fiber and "good" carbs. After her first date, Melissa began snacking on them all the time.
During her junior year, she got a job at a smoothie and acai bowl shop. She wanted to earn some money and eat fruit for free. After a few days, she became disillusioned with the shop because they added a TON of processed sugar to their products. Melissa thought it would be better to sweeten things up with dates – in a nut butter form you could drizzle over the bowls and smoothies. It turns out, there was no such product, so she decided to make her own.
Armed with a food processor, a bunch of dates and an idea, Melissa began experimenting in her dorm room. She came up with a cinnamon date spread that was delicious. She handed samples out to friends and kept making more date spread. After a lot of thought, she decided to call her product "Wanna Date" and she shot a video of some friends blind tasting her product. She used that video in an IndieGoGo campaign to raise money for her first batch of jars and now, she's bringing her Wanna Date date spread to the Shark Tank. Will the sharks Wanna Date?
My Take on Date Spread
I like dates. I buy them fairly regularly as a snack. Like Melissa, I like the taste and texture and I like that they're packed with good stuff. It's a sweet, guilt free snack. I imagine Wanna Date spreads are tasty, too. There are five flavors of the all natural, gluten free, fat free spreads: original, vanilla, pumpkin spice, chocolate and cinnamon.
As of now, Wanna Date is only available online. Melissa doesn't appear to have her product in any stores. In fact, she recently graduated, so she's been "hustling" to get Wanna Date going for several months. I'd probably try this stuff, even if it is a tad pricey at $12.
Will Sharks Wanna Date?
Melissa looks like the type of entrepreneur the Sharks will love. She's young, smart and passionate about her business. This can go a long way in the Tank if the Sharks like the product. One thing that could be a problem is sales. It seems she only has her crowdfunding sales. She is trying to make inroads in the wedding market and she is soliciting wholesale customers, but she has no distribution in food stores as of yet. That might be a problem.
I don't think Mark or Daymond bid on this. Mr. Wonderful might if he feels it fits in his "something wonderful" platform, but Barbara or Lori would be better fits. Both Sharkettes had success with food products in the past and they could take a flyer on Wanna Date if they like Melissa and the product. I expect Barbara and Lori to bid on this but I think they will want a fairly high percentage.