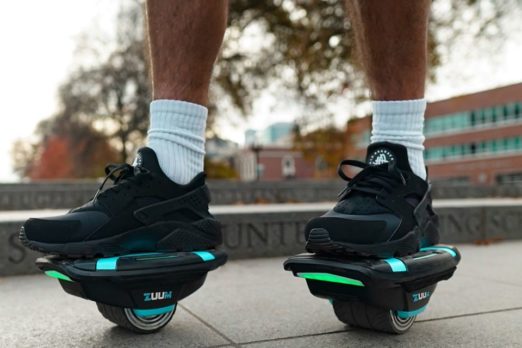 Chico Guerra and Mason Buechler started Zuum Technologies to "reinvent the way people think about traveling." They decided to make hover shoes for zipping around on short commutes. Most people take trips of five miles or less when running errands or commuting. If you live in an urban area, those short trips are more efficient with "alternative transportation."
The past few years have seen an influx of personal "vehicles" like electric scooters, electric skateboards, hoverboards and now hover shoes. Zuum Technologies hover shoes are reminiscent of the hover boards that were all the rage a few years ago. Instead of two wheels on a single board, each hover shoe has its own wheel. They operate pretty much the same as a hoverboard, except their lighter and more portable.
Another thing that makes Zuum stand out is the shoes are water AND fire-proof. Most people won't be traveling through fire on a short trip, but when it rains, the waterproof feature comes in handy. Max speed is 8 MPH and the batteries last about an hour and a half and they claim they are "rapid charging."
A pair of Zuum hover shoes will set you back $350 on Amazon. The problem is, there are several lower priced hover shoes out there – it's not a proprietary technology. Zuum Technologies is banking on their Kickstarter credibility to help them gain market share, but they'd love to have a Shark help them get their shoes out to the masses.
My Take on Zuum Technologies
My daughter has a hover board. I tried it once and almost killed myself. She zips around on the thing like a pro, but I will stick to my bicycle for short trips around my neighborhood. That's not to say they won't sell a lot of these. The very same daughter thought they looked "cool" and she's already plotting how to get herself a pair.
The problem Zuum has is the non-proprietary nature of the product. Like hover boards, there are dozens of companies selling hover shoes. There will obviously be varying levels of quality between companies (remember the hover boards that spontaneously burst into flames), so Zuum Technologies will need to deliver a reliable product and stand behind it. I won't be buying a pair of their hover shoes, but if my daughter has her way, Zuum will be getting some of my money this year!
Will Sharks Zuum in on a Deal?
I don't think these guys land a Shark. Unless their sales are ridiculously strong, they won't be able to get over the proprietary objection. I can almost hear Mr. Wonderful saying "I can order a container of these shoes, call them Wonderful hover shoes and crush you like the cockroaches you are."
All told, these guys are marketing a readily available imported product. They will probably sell a lot of hover shoes, but I don't think the Sharks will see this as an "investable" business.