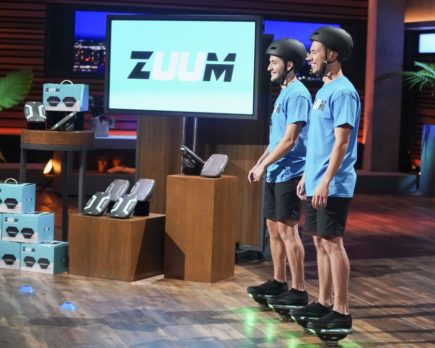 Chico Guerra and Mason Buechler hope the Sharks like Zuum, their Hover Shoes that are the "world's lightest transportation device," in Shark Tank episode 1108. For people familiar with hover boards, the Zuum hover shoes are similar. Hover boards are a single unit while hover shoes are two separate wheels for each foot. The guys created their product in 2018 to respond to the rapid growth of "personal transportation devices."
From electric skateboards to skooters to hover shoes, the personal transportation market is exploding. Largely urban dwellers are seeking alternatives to automobiles and public transportations for short trips around town. Zuum is the latest product to fit that need.
Chico and Mason raised $24,253 on Kickstarter in March, 2019 and another $25,470 on IndieGoGo a few months later to get their business off the ground. Their hover shoes are fast charging, light-weight, water and fire resistant and have a 1.5 hour battery life. They hold up to 220 pounds and have a maximum speed of 8 MPH. They had some glitches fulfilling orders, but they shipped most of their shoes in August, 2019.
A pair of Zuum hover shoes will set you back $350 on Amazon. As with hover boards, which were all the rage a few years ago, there are already knock-offs for sale. The guys likely want a Shark's help getting to market quickly and eliminating the knock-off products.
Company Information
Video

Posts about Zuum on Shark Tank Blog
Zuum Shark Tank Recap
Chico and Mason enter seeking $125,000 for 20% of their business. After a brief demonstration, they tell the Sharks they are distributing the shoes and branding it themselves. They want the Sharks' cash to help them keep enough inventory on hand.
The Sharks express concern that the guys can't articulate their biggest challenge for their business. There's also concern that they aren't passionate enough. The biggest objection, as I predicted, was the product isn't proprietary. Anyone can import and brand these shoes. With three strikes against them, the Sharks send them off with no deal.
Zuum Shark Tank Update
The Shark Tank Blog constantly provides updates and follow-ups about entrepreneurs who have appeared on the Shark Tank TV show. The company is still in business 2 months after the original air date and the shoes are available on Amazon. As of July, 2021, it appears they were unable to successfully brand themselves. Similar shoes still appear on Amazon, but they aren't the Zuum brand. As of March, 2022, they are still open for business. Reliable revenue figures are unavailable.