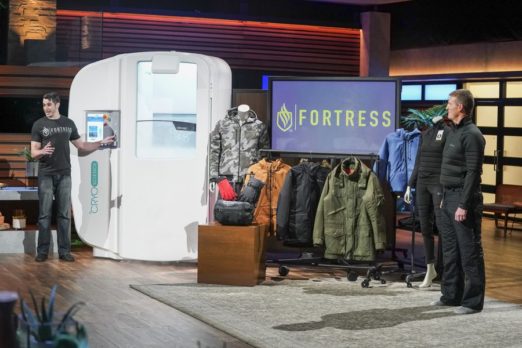 Dale Lewis seeks an investment in Fortress, his line of "insulation wear," in Shark Tank episode 1108. His clothing utilizes "Patented Insulation Technology" to keep you warm in the coldest of weather – wet or dry. The line includes gloves, pants, jackets and insulated basewear. The clothing wicks moisture from sweat while keeping users warm.
Originally designed for the paragliding community, Lewis wanted outerwear that allowed for full mobility while still providing protection from the elements. His customers include winter outdoor sports enthusiasts, cold weather workers, hunters, fishermen and more.
To get the company started, he raised $46,264 on Kickstarter back in the spring of 2017. He also pitched the company on CNBC's Adventure Capitalists back in November of 2017. It appears the real play is in the technology behind Fortress. Besides selling clothes, Lewis is licensing the technology. One company – Thick Skinn – tried unsuccessfully to fund a blanket with the technology on Kickstarter. Whether Lewis wants to create a brand around Fortress or simply license his patented technology, a Shark can help him in his journey.
Company Information
Video

Posts about Fortress on Shark Tank Blog
Fortress Clothing – Cold Weather Gear
Fortress Shark Tank Recap
Dale enters seeking $600,000 for 15% of his business. He explains his products and hands out samples. Dale wants the money to do market research to see how his products can expand beyond the oil and gas industry workers that predominantly buy his clothing.
Because he isn't clearly articulating how he'll move forward, the Sharks express concern. They can't see how they'll get their investment back and, one by one, the Sharks go out. No deal for Dale.
Fortress Shark Tank Update
The Shark Tank Blog constantly provides updates and follow-ups about entrepreneurs who have appeared on the Shark Tank TV show. Despite not doing a deal, the company remains in business. As of June, 2021, annual revenues are more than $5 million.