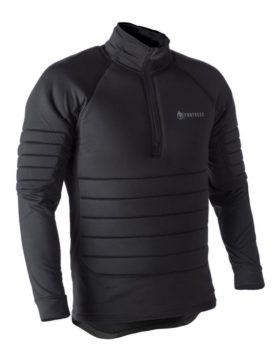 Dale Lewis created his patented Fortress Clothing line to stay warm in extreme cold weather. Originally designed for paragliders at high altitudes, Dale's found that skiers, snowboarders, outdoor workers and others want the same protection from cold. The secret sauce is Fortress Clothing's patented technology that keeps you warm whether you're wet or dry.
Anyone who's been out in the cold with wet clothes knows you get cold fast. It can even be life threatening in some instances. The technology has three layers: a breathable inner lining, an "engineered polymer lining," and a windproof outer lining. The composition allows for moisture to wick out through the clothing, leaving your body dry and warm.
For about $110, you can purchase an insulated base layer – think of it as long underwear on steroids. The are pants and shirts in this category. If you want to go all out, he sells jackets, gloves, hats and pants. The jackets range from $49 for a windbreaker shell to $320 for a full on winter parka. Dale wants to create a brand around his technology and he's hoping a Shark will "warm" to the proposition.
My Take on Fortress Clothing
All throughout my childhood into my thirties I was a cold weather, outdoor enthusiast. I skied all over New England, Colorado and Utah. I also did a lot of winter camping. There were times I got very wet and cold and I wish I had something as effective as Fortress Clothing.
Nowadays, I live in Florida and the most bundled up I get is a hooded sweatshirt. I'm not a customer, but I like the style of the jackets and, if I ever reinvested in winter clothes, I'd look into Fortress.
Will Sharks Dress Up a Deal?
It's hard to really demonstrate this product's effectiveness in a TV studio, so Dale brings an enclosed "weather pod" into the Tank to cool off the Sharks while they wear his clothing. In the press photos, Robert is seen in the pod. Robert is probably the best Shark for Fortress Clothing: he does outdoor winter sports, he lives in frigid Canada and he's had some recent success with clothing brands.
I can't see any of the other Sharks bidding on this – except for maybe a ridiculous bid by Kevin to liven things up. Dale needs to sell Robert and he'll need to make it worth his while. If the numbers are good and Robert likes Dale's approach, he may bid.