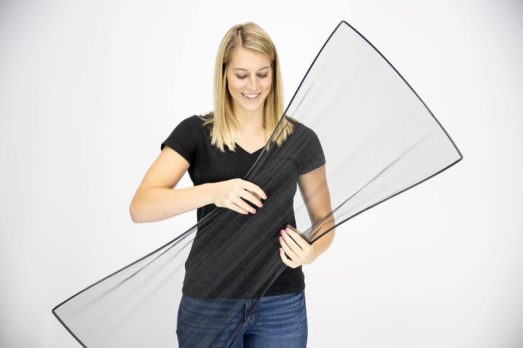 Flex Screen inventor Joe Altieri spent 15 years in the window business. People loved his windows, but he heard a lot of complaints about screens. Screens are a necessity if you want to get fresh air while keeping out bugs and animals, but they tend to rip or otherwise become ineffective. Replacing screens or repairing them is a huge hassle and often very expensive. And a lot of times the replacement screens don't fit right.
Screen "technology" hasn't changed in over one hundred years – until Flex Screen. Joe engineered a simple, easy to use solution to this old problem. He made screens with a steel spring frame so they flex. This makes them easy to install and remove without a huge threat of damage. Since they have no rigid frame, more light comes in, too.
Flex Screen is a made to order product. You measure your windows and order a custom screen direct from Joe's website. He's also trying to build a dealer network for people who don't want to measure their own screens. The biggest challenge he faces is getting the product in front of customers. Once you see it, it makes perfect sense, but there's still a big disconnect between consumers and his company. he hopes a Shark can help him with that.
My Take on Flex Screen
I've owned three homes in my lifetime and I've dealt with defective screens. I found replacing them through the factory to be prohibitively expensive. It was almost the same money to just get a new window! Patching holes is effective, but the repairs look shabby over time.
At about $70 per screen, the Flex Screens aren't cheap, but they're cheaper than ordering replacements from the factory and they look a lot easier to install. There are standard and "upgraded" (presumably more durable) mesh options which can add to the cost. The ease of installation is the biggest selling point here and, even at $70 a screen, there's value there. When I need new screens (I have all new windows), I'll check this product out.
Will Sharks Flex Their Wallets and Invest?
I'm not confident Joe gets a deal here. The idea is amazing and the product looks top-knotch, but their are problems with bringing it to market. Most people aren't that handy and even measuring screens can prove daunting. That means Joe needs to build a pretty substantial dealer network. He is, to his credit, trying to do that, but it's going to take a lot of time. There are too many moving parts to that business model.
It would be smarter if he licensed this to window manufacturers. When you get new windows, they should just come with a Flex Screen in each unit. That would make a lot of sense, but will the Sharks want to go on this journey?
Kevin, Lori and Robert have licensed home improvement products in the past, but Joe might be "too early" for them. He may get a bid from one of those three Sharks, but my gut says he leaves empty handed.