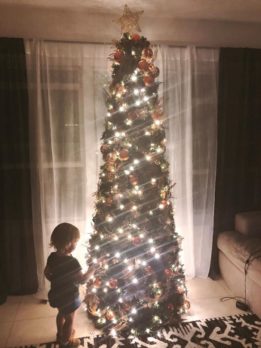 Easy Treesy creator Kurt Stange started designing and installing large-scale Christmas displays right out of college. His company, Miami Christmas Lights, puts up hundreds of Christmas displays for corporate clients every year. Watching the installation of these displays became somewhat of an event in the greater Miami area and one day a spectator asked why they couldn't buy the trees Kurt's crew was installing.
Easy Treezy trees are consumer versions of the trees Kurt uses in his displays. The big attraction for these trees is they assemble in just a few minutes. Easy Treesy trees are made of four collapsible conical sections that stack on top of each other to form a Christmas tree. They come pre-lit and/or pre-decorated. Did I mention they go up fast?
Kurt's been selling the trees for several years now and has a pretty successful business. He employs 18 full-time people and hires another 18-20 more each Christmas season. He manufactures and stores Easy Treesy trees in an 18,000 square foot warehouse in Miami.
At $300 – $900 per tree, Easy Treezy trees are pricier than standard faux trees, but the quick set – up and durability have made them very popular. Kurt thinks they'll sell out on show night, so either buy ahead of time or from Amazon where they have a fair amount of inventory. What Kurt need a Shark for is unclear. He just hopes to catch one.
My Take on Easy Treesy
We set up our Christmas tree on the Friday after Thanksgiving. No Black Friday shopping at the mall for us. Our tree is a pre-lit, fake tree. It's our fifth Christmas with this tree and this year, the lights on the top third of the tree blew out. It's a new tree for our family next year (we'll wait for the after Christmas clearances). I am considering an Easy Treezy tree because they look SO EASY to set up.
I'd likely opt for a seven foot, pre-lit tree. While they have pre-decorated trees, we like our eclectic collection of ornaments from around the world. Some of the Easy Treesy trees go for $900 – that's a bit steep. Anything that costs more than my first car usually gives me pause. The pre-lit tree is $279 –  a price I can live with. If it looks good on TV, it'll be in our living room next Christmas. I'm in.
Will Sharks think this is an Easy Investment?
Stange has a lot going for him. He's not some crackpot with the next new thing in Christmas trees, this is a legit business. Americans purchase 20-25 million artificial Christmas trees each year. That's not small potatoes. They need to be replaced periodically, too, so it isn't just a one-time purchase.
If the numbers for Easy Treesy are solid, I predict a bidding war from the Sharks. On the Easy Treezy website, they're anticipating selling out on show night. That tells me they have a memorable segment. While the entrepreneurs who appear in the Tank can't always control the edit they get, they do know whether they got a deal of not. I'm predicting both the Sharks and the viewing audience will respond well to this product.
Merry Christmas!