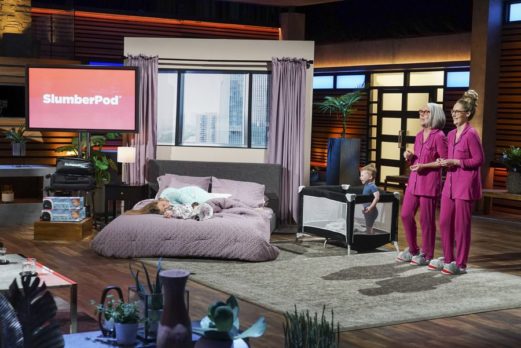 Mother – daughter team Lou Childs and Katy Mallory seek an investment from the Sharks for Slumberpod, their portable baby crib that gives babies privacy, in Shark Tank episode 1108. The Slumber Pod crib is like a crib/tent hybrid that provides babies a private, dark place to sleep. The Genesis of the product occurred in 2014 when Katy and her family were visiting Lou (mom) over the Christmas holidays.
Like many holiday family gatherings, Lou's house was full and Katy, her husband and baby shared a room. Unfortunately, the baby – who usually sleeps like a baby at home – wouldn't sleep. Katy and hubby got so sleep deprived on the visit that they left early.
The episode prompted Katy to find a portable crib that offered comfort and a dark, private space for baby while traveling. When she couldn't find one, she retrofitted a crib with blankets. Concerned about the safety of her "homemade" crib, Katy set out to engineer her own crib. The result was Slumberpod.
To get things rolling, Katy and Lou raised $45,608 on Kickstarter back in the spring of 2018. The patent-pending SlumberPod was a success and is now available on Amazon for $155. Katy and Lou think they have a real winner on their hands. Parents with babies travel with portable cribs, why not have one that offers peace and quiet for parents and babies alike? They hope the Sharks see the wisdom of their product and invest.
Company Information
Video

Posts about SlumberPod on Shark Tank Blog
SlumberPod Shark Tank Recap
Lou and Katy enter seeking $400,000 for 20% of the business. They explain the company and impress the Sharks with their $556,000 in sales since starting the business. The Sharks also like that the company is profitable and debt free. Lou and Katy say they want a Shark to help them scale up production to keep up with demand.
Lori thinks they're doing fine on their own, she's out. Robert and Mark quickly follow. Kevin offers $400,000 as debt and Barbara offers $400,000 for 25%, plus a contingency that she gets a percentage of each sale until she gets her money back. After a brief bidding war, they get Barbara to agree to 20% equity and accept her deal.
SlumberPod Shark Tank Update
The Shark Tank Blog constantly provides updates and follow-ups about entrepreneurs who have appeared on the Shark Tank TV show. The deal with Barbara did not close. The company has racked up sales of over 20,000 units and plans on developing new products in the future. They're also exploring getting into more retail stores and expanding their Amazon sales. Unfortunately, the product is getting knocked off like crazy. There are dozens of knock off items on Amazon.
As of July, 2021, the product is out of stock on their website. Supply chain issues are killing them. They anticipate restocking in the middle of the month (July 2021). Annual revenue is less than $5 million. I hope these gals make it!
With regards to the knock-offs, the company received a patent on October 21, 2021. This means that competitors won't be able to have a canopy that is free-standing, goes over a travel crib or toddler cot, or has a baby monitor pouch that's accessible from the outside of the pod. This also means they can have the knock-offs removed from Amazon and other retail outlets. You can buy them in Buy Buy Baby Stores too.
In October, 2022, they introduced Slumberpod 3.0 which features a fan, an additional ventilation panel, a larger carrying case and updated pouches. In December, 2022, an eCommerce tech company called Artica, made a "major investment" in the company. Terms of the deal weren't disclosed. Artica plans on helping the company develop new products and scaling the business. As of May, 2023, annual revenue is $9 million.