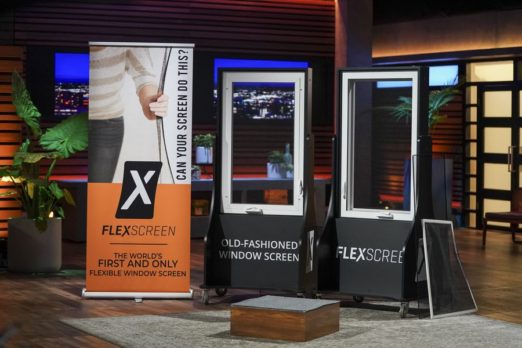 Joe Altieri hopes a Shark invests in FlexScreen, his replacement window screens, in Shark Tank episode 1108. After spending some time in the replacement window industry, Joe found out the biggest complaint people had was their window screens. Screens tear, get dirty, and they're hard to remove and replace. He thought about the problem and, like any good entrepreneur, he created a solution.
The result was FlexScreen. It's a replacement window screen with a PVC coated steel spring frame. This lets you "squeeze" your replacement screen into the slots for holding screens. Since the screen's frame slips into the slot, there is increased visibility. It's so easy to remove, cleaning becomes far less of a chore.
Each screen is custom sized. Measure the height and width of the screen and depth of the screen slot and they'll ship your custom sized screen off. An average window screen costs about $70. For now, you can only order off the website, but Joe is looking to build a dealer network for his product. He likely wants a Shark to help him expand that network.
Company Information
Video

Posts about FlexScreen on Shark Tank Blog
Flex Screen – Replacement Window Screens
FlexScreen Shark Tank Recap
Joe enters seeking $800,000 for 6% of his business. After explaining his business and handing out samples, he gets down to business. In five years, he's sold over $5 million direct to window manufacturers. The Sharks like this, but think he's leaving money on the table not selling direct to consumers. They also think his product is priced too low with just 15% margins. The Sharks think licensing and selling in stores with standard sizing could increase sales.
Three Sharks start the bidding war. Kevin offers $800,000 for 20% contingent on a licensing deal with a major window manufacturer. Lori offers $400,000 in cash and a $400,000 line of credit for 10% of the company. Barbara offers $400,000 in cash and a $400,000 line of credit in exchange for 50% of the retail business. Joe seems to be leaning towards Barbara's offer when Lori matches it. Thinking Lori has better connections in the hardware space, he accepts Lori's offer.
FlexScreen Shark Tank Update
The Shark Tank Blog constantly provides updates and follow-ups about entrepreneurs who have appeared on the Shark Tank TV show. The first re-run of this episode comes just two months after the original air date. It appears as if the deal has not closed with Lori yet. As of August, 2020 it still has not closed.
The deal with Lori finally closed after the August, 2020 rerun. Joe reportedly has manufacturing plants in his home state of Pennsylvania, Georgia, Michigan and South Dakota with more in the works. Joe is still selling direct to consumer, but he and Lori are going into retail stores. Perhaps we'll learn some more about  that in the episode 1212 update segment.
In the update segment, he reveals that in the year after appearing on Shark Tank (2020), sales tripled from $5.1 to over $15 million. He also opened a fifth manufacturing plant in Canada. Lori brokered a deal with Saint Gobain, a huge conglomerate that makes windows and window screens (among a lot of other things). This will place FlexScreen in every major retailer internationally. Lori thinks this will replace the entire existing window screen industry.
In March, 2021, Flexscreen was in stores like Home Depot, Lowes and Menards. They had to increase their employee count from 100 to 150 at their Pittsburg factory to keep up with demand. Also in 2021, the company was number 2,321 on the annual Inc. 5000 list. By April, 2022, the company partnered with Harvey Windows in Waltham, Massachusetts. Flexscreen will supply this window manufacturer with screens from its newest factory in Nashua, New Hampshire – the company's seventh factory. In July, 2022, the company began licensing its manufacturing process to other window manufacturers. This lets window manufacturers produce FlexScreens at a lower cost than standard aluminum window screens.
Revenue for 2021 was $20 million. As of May, 2023, the company did over $30 million in sales in 2022. By 2024, this could be a $100 million company.