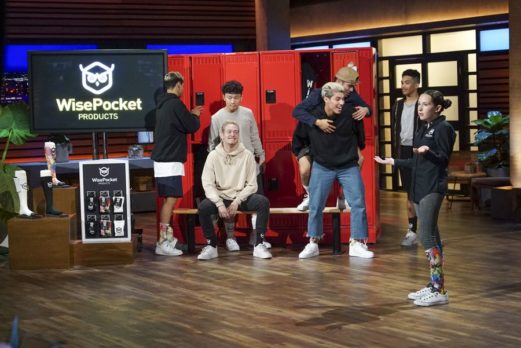 13 year old Sofia Overton wants the Sharks to invest in WisePocket, her socks with pockets, in Shark Tank episode 1112. The idea came to her when she saw her cousin put her phone in her boot – her pants had no pockets. When Sofia tried the same thing, her phone slipped down into her boot – it didn't work. She decided to make socks with pockets for those times when you need an extra pocket.
Sofia also has a social conscience. She claims there are over 600 kids in her school district that are classified as homeless, so she donates a pair of socks to homeless shelters for each pair she sells. Soon she'll branch into leggings with pockets too. There were plenty of people who helped Sofia get WisePocket going: her parents, her patent attorney, her local Chamber of Commerce and the folks at Start-Up Junkie.
Sofia got her first orders with a successful IndieGoGo campaign that raised $10,006 in early 2018. The first socks were shipped that fall. They come in white, black and "splatter paint." Each pair costs $15. As of Christmas, 2018, she's shipped socks to 25 homeless children's shelters across the USA. Sofia needs a Shark to help her with growing WisePocket into a "real" business. Will a Shark fill her pockets with cash?
Company Information
Video

Posts about WisePocket on Shark Tank Blog
Wise Pocket Products – Socks With Pockets
WisePocket Shark Tank Recap
Sofia enters seeking $30,000 for 15% of her company. After explaining her business and handing out samples, she says she needs money to expand production: she can only make 100 pairs a month right now. The Sharks are impressed that she self funded the company with $5,000 in savings and another $5,000 from business competitions.
All the Sharks like her, but Daymond and Lori team up to make a bid. They want to pursue licensing and they offer $30,000 for 33.3%. Sofia counters with $35,000 for 25% and the Sharks agree.
WisePocket Shark Tank Update
The Shark Tank Blog constantly provides updates and follow-ups about entrepreneurs who have appeared on the Shark Tank TV show. In the two months following the original air date, this deal closed and Wise Pocket appears on Lori's website. It doesn't look like a licensing deal happened yet, but it hasn't been very long. Perhaps there will be more news in the months to come. As of July, 2022, the company no longer appears on Lori's website. They are still in business, but reliable revenue figures are unavailable. As of July, 2023, the website is down and it looks like the company is out of business.