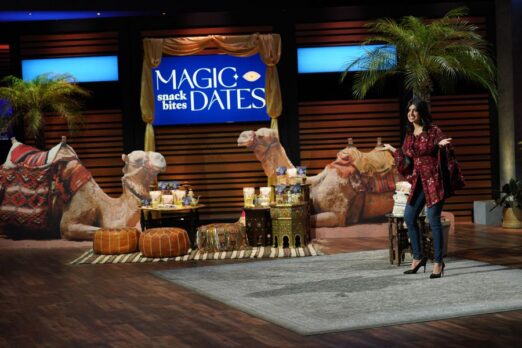 Diana Jarrar wants a Shark to bite on Magic Dates, her all natural date-based snacks, in Shark Tank episode 1316. Jarrar grew up in Syria as a Palestanian refugee. Dates were the go to snack while she was growing up. A favorite of hers was a date with a walnut inserted where the pit used to be. She immigrated to Toronto, Canada when she was 11 years old and she moved to LA when she was 19. She graduated with a degree from California State College Northridge in 2010. For a while, she ran a Mediterranean themed catering business before getting into real estate for three years. She started Magic Dates in September of 2016.
What makes this snack food so special is its ingredients. Dates give your body the sugar it craves naturally without any refinements. Dates are also high in phytonutrients, antioxidants, and fiber. Magic Dates are truly a guilt free snack. They're dairy and gluten free, non GMO and Kosher.
A pack of 8 3.5 ounce bags ( a one month supply) costs $40. They come in a variety of flavors: salted walnut brownie, lush lemon bar, coconut cream cake, choco coconut cookie, triple choco crunch, choco hazlenut truffle and blueberry choc dream. You can find them at dozens of independent shops, Erewhons Markets, Lassen's, the company website and Amazon. Diana likely wants a Shark's help expanding her retail foot print.
Company Information
Video

Posts about Magic Dates on Shark Tank Blog
Magic Dates Shark Tank Recap
Diane enters the Shark Tank seeking $150,000  for 10% of her business. She tells her story and how she grew to love dates. They're gluten free, sugar free and dairy free. The Sharks like their samples. Each bite has 50-60 calories, but they are nutrient dense. Each serving has 15-20% of dietary fiber. Diana reveals she helped formulate Cocnut Girl, a company Mark invested in during season 11. This opened up a new world for her and she didn't go to law school to start her business.
She started in 2018 at a farmer's market and got into 30 stores that year with $30,000 in sales. In 2019, she had $100,000. 2020 had $136,000 and so far in 2021 (the segment taped in September) she has $175,000 projected. Almost all sales were in retail. One package costs $1.60 landed and they sell for $4.99-$5.99. She hopes to do more direct to consumer in the future. She reveals that the packaging she has is new.
Mark says packaging changes indicate sales are off; he's out. Robert doesn't see the growth as an investor; he's out. Daymond says it's not his space; he's out. Lori thinks she should go back to law school; but it's a crowded space; she's out. Kevin thinks Diana is impressive; but he doesn't like the sales numbers. He offers $150,000 for 33.3% of the business. Diana counter at 20%. Kevin won't budge off 33.3%. Diana accepts Kevin's offer.
Magic Dates Shark Tank Update
The Shark Tank Blog constantly provides updates and follow-ups about entrepreneurs who have appeared on the Shark Tank TV show. On show night, Kevin Tweeted:
When I believe in the entrepreneur and the product, sometimes it's worth taking the risk. #SharkTank
The first re-run of this episode in July, 2022, airs just four months after the original air date. As of this time, the deal with Kevin has not closed. The Shark Tank Blog will follow-up on Magic Dates & Diane Jarrar as more details become available.
By November, 2022, it appears this deal isn't closing. Diane added "date flights" to her line. They consist of four kinds of plain dates and 5 recipes. They sell for $39.99. Annual revenue is unknown at this time.
*Editor's Note: I tried the salted walnut brownie bites and they're delicious!