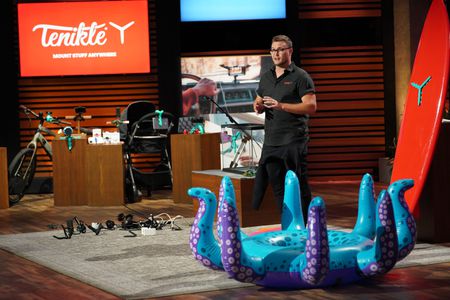 Hans Dose pitches Tenikle, his tripod for mounting phones and cameras, in Shark Tank episode 1311. The idea came to him after he broke his phone on some rocks after trying to prop it up on a tree for a picture. On the way home, he had an epiphany when he put his phone on a suction cup mounted phone holder in his car. He thought "tripod plus tentacles equals a third hand to replace all other mount accessories."
If you ever had a Gumby toy as a kid, think of Tenikle as something like that. It's a three-legged, bendable tripod with octopus-like suction cups. It can do many things beyond functioning as a tripod, too. You can also use it as a car mount, selfie stick, phone stand and more. There's even an attachable phone clip that screws into the product.
He got the funds to get started with a successful Kickstarter campaign that raised $107,283 back in September, 2017. He also raised $126,922 on IndieGoGo. Unfortunately, production and shipping issues went unresolved for two years and when they were finally delivered, there were issues with the product's quality. The company offered to allow backers to trade up for the Tenikle 2 which took another year to deliver. Now, they have their ship righted and they're selling on their website and Amazon. A Tenikle 360 – the newest version – costs $5 and the "2.0" is $30. He likely wants a Shark's cash as well as help with the manufacturing and shipping SNAFUS he encountered with his Kickstarter. Do Sharks work with octopi?
Company Information
Video

Posts about Tenikle on Shark Tank Blog
Tenikle Shark Tank Recap
Hans enters in swim fins with an inflatable octopus around his waste. He's seeking $200,000 for 10% of his company. He says how he loves octopi and he tells the story of how he came up with the idea. He tells about all the things it can do and shows how the suction cups can support lifting a surfboard.
Mark says he likes it. He wants numbers though. Each unit costs $6.08 to make and sells for $45. He sold over 40,000 units for $1.3 million in sales. He wrote the patent in 2015 while working at Hurley (surfboards) as a designer; it was his dream job. He gave prototypes to friends and family and they all found interesting uses for it. He tells the Sharks about his Kickstarter. The current product is the fourth version. He had to keep remaking the product until he had better suction.
To get to this point, he has gone $270,000 in debt. Last year (2020) he did $478,000 in sales. Last month, he only did $9000 in sales because he ran out of marketing dollars. He has $111,000 of inventory at cost. He and his wife moved into an RV to save money. Mark says worst case scenario he sells in flea markets. Hans reveals he only has $39 in the bank.
Who's In?
Kevin can't criticize the product or Hans, but he wishes him the best and goes out. Lori thinks it's a good product but it's a crowded space, she's out. Robert offers to pay the $270,000 debt and then give him an additional $100,000 for 60% of the business and he wants Hans to bring in other partners, the equity to bring in those partners would come from Robert. Daymond identifies with Hans' situation and tells a story of how he raised money when he started. Daymond believes in Hans and offers $200,000 for 33.3%, then Daymond drops to 30%. Mark says that's a better offer than he'd give; he's out. Hans looks to Robert and says "I'm out." The Sharks roar with laughter. Hans counters with 25% and Daymond says no, then Hans does the deal.
Tenikle Shark Tank Update
The Shark Tank Blog constantly provides updates and follow-ups about entrepreneurs who have appeared on the Shark Tank TV show. In the immediate aftermath of the show, Hans had over $250,000 in sales and completely sold out on Amazon. On show night, Daymond Tweeted:
"No matter what kind of situation you're in, there's always hope. I believe in Hans and his product and am looking forward to working with my new partner!!"
The deal with Daymond did close and the company get an update segment in episode 1321. In the update, Hans says he did $375,000 in sales in the month and a half since he aired. Daymond announced a strategic partnership with Cody Grandadam of Litezall. Cody secured a $1 million retail order. As a result of the company's success, Hans and his wife are looking for a new house. As of December, 2022, the company has over $2 million in lifetime sales.
The Shark Tank Blog will follow-up on Tenikle & Hans Dose as more details become available.