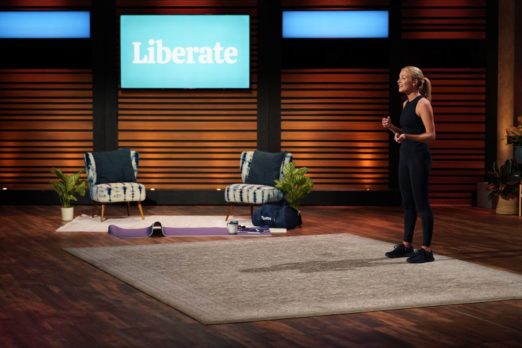 Olivia Bowser seeks an investment in Liberate, her mental fitness studio, in Shark Tank episode episode 1311. Think of Liberate as a health club for your mind. She started the business in May, 2020 during the global Covid-19 shut downs as a way to cope with the mental health issues she and many others suffered from due to isolation. Bowser, like many others, is a bit of a fitness nut. She works out 6 days a week, but she needed something to help her with her "mental fitness."
She found doing yoga and meditating helped her with her mental state and she decided to take what's best about going to classes at the gym with "mental fitness exercises." With her extensive background in digital marketing and her other skills, she set out to create her virtual mental fitness studio. The result was Liberate. It consists of a series of 15, 30 or 60 minute classes that focus on different aspects of mental health. Classes include things like building confidence, resilience, meditation and more.
Classes are live or, if you can't be there live, on video. There are also some written materials for topics like journaling. Classes are taught by Olivia, a certified meditation and mindfulness teacher and yoga instructor, plus four other certified instructors. Live classes are on Zoom twice a week and the videos are accessed through the website. A minimum of four new classes are added each week. The cost is $19 per month or $99 for a full year. She likely wants a Shark's help building out the depth of her curriculum. With a Shark be mindful and invest?
Company Information
Video

Posts about Liberate on Shark Tank Blog
Liberate Studio – Mental Fitness Studio
Liberate Shark Tank Recap
Olivia enters the Shark Tank seeking $200,000 for 10% of her business. She says she's going to give them the best workout of their lives and she unpacks a yoga mat and a journal. She explains the business and the classes. Kevin asks if she's starting a cult and asks how he'll make money with any of this crap.
She explains the subscription model and says she has most of her revenue is the B2B market which is 65% of her business. She has $50,000 lifetime sales. When Robert questions the valuation, Olivia says margins are over 90% and there is 178% growth quarter to quarter while building a scalable system, team and curriculum. Sales the previous month are just $7500. Robert says she doesn't have the scale and her corporate program is too inexpensive.
Mark says the Mavericks have a full time team psychologist, so he believes in her business, but she doesn't scale it properly; he's out. Robert says she's too early, he's out. She says she's not leaving without a deal. Daymond loves what she's doing but she hasn't figured it out yet, he's out. Lori, while the other Sharks chant her name, says she's at a stage where she's figuring out what she's doing, she's out. Kevin says it's going to zero and she should take it behind the barn and shoot it, he's out.
Liberate Shark Tank Update
The Shark Tank Blog constantly provides updates and follow-ups about entrepreneurs who have appeared on the Shark Tank TV show. The first re-run of this episode is in May, 2022, just five months from the original air date. Not much has changed with the business and there's no "blockbuster" news out there. The Shark Tank Blog will follow-up on Liberate & Olivia Bowser as more details become available.