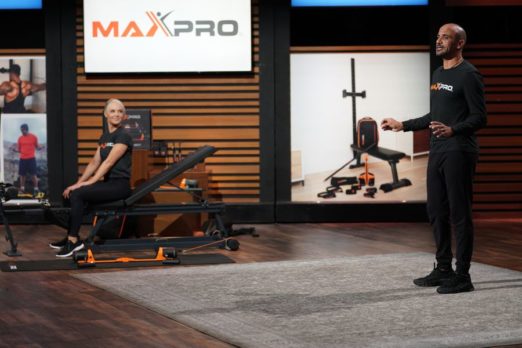 Nezar Akeel wants to snag a Shark to invest in Max Pro, his full-body portable cable machine, in Shark Tank episode 1311. Akeel, an engineer by profession, is a fitness enthusiast. After designing products for other companies for years, he struck out on his own in 2019 and created Max Pro – along with a couple of partners who don't appear on the show. What they came up with is a portable, resistance cable machine that mimics the resistance machines you'd find at a gym.
The machines pair via Bluetooth with an app that tracks progress and provides a virtual personal trainer. The Wall Street Journal called it fitting "a weight room's worth of equipment into any corner." The devise itself is a patented resistance machine that dials resistance from 5 to 300 pounds. The secret sauce is a power clutch system that provides the resistance for the cables that are 15 times stronger than steel. By configuring it different ways, you can recreate any machine at the gym.
They got started with a successful Kickstarter that raised $213,676 back in May, 2019. Products shipped in August, 2020. At $979, it's priced less than similar home gym machines like Bowflex or NordicTrac. You can accessorize the cable machine with a wall track for easier methods for certain exercises. They also sell an accompanying bench and a back pack to carry the Max Pro around in. All products are available on their website and Amazon Store. They've only been in business since 2019 and they are growing fast. They likely want a Shark's help managing that growth. Will a Shark exercise an option and invest?
Company Information
Video

Posts about Max Pro on Shark Tank Blog
Max Pro Shark Tank Recap
Nezar enters the Shark Tank accompanied by a woman wearing a back pack. He says health and fitness are important to many people around the world. She unpacks the Max Pro and demonstrates the unit. The Sharks seem impressed. He explains how the machine and the app work together. He asks for $500,000 for 2.5% of his company and the Sharks recoil. Robert asks about the 300 pound tension and is invited onstage to try it out.
Robert starts doing curls and when Nezar says it's five pounds the Sharks laugh. Kevin asks about sales. They developed the product over five years. They did $4 million in sales last year (2020) starting in July. To date this year (summer 2021) they have $8 million in sales and project finishing the year at over $12 million. The Sharks are impressed.
Lori asks about the versatility of the machine and he shows a montage video of people working out with the machine. They cost $205 to make plus $20 in shipping and sell for $849. They are cash flow positive and have over 3000 users a day on the app. Last year, they only profited $50,000. This year, they expect to break even this year. He took a revenue based line of credit at 28% and they have $5 million in inventory. He tells how Shaquille O'Neil partnered with him at an earned equity from 1.5% to 5% as the years progress.
After a break, Daymond has an offer: $500,000 with a $25 per unit royalty until he gets his money back, then he gets 4% equity. Nezar says he wants a Shark to help him open doors and get into retail. Daymond feels he's being ignored. Lori wants to know the return rate: it's less than 5%. Mark wants to know if he needs the app and the app gives feedback on the workouts.
Kevin doesn't like the app – he's out. Mark offers $500,000 for 3% plus the advisory shares Nezar gave Shaq. Robert says he wouldn't have as good an offer as Mark and he goes out. Lori does too. Nezar wants to ask Mark a question and Daymond goes out. He asks Mark if he could help with a line of credit. Mark says he won't commit to it now, but it's something he does all the time. Nezar does the deal and Mark goes onstage to try the machine out.
Max Pro Shark Tank Update
The Shark Tank Blog constantly provides updates and follow-ups about entrepreneurs who have appeared on the Shark Tank TV show. On show night, Mark tweeted a picture of him demonstrating the Max Pro. As of May, 2022, there is no evidence the deal with Mark closed. Revenue for 2021 was $10 million. The Shark Tank Blog will follow-up on Max Pro & Nezar Akeel as more details become available.