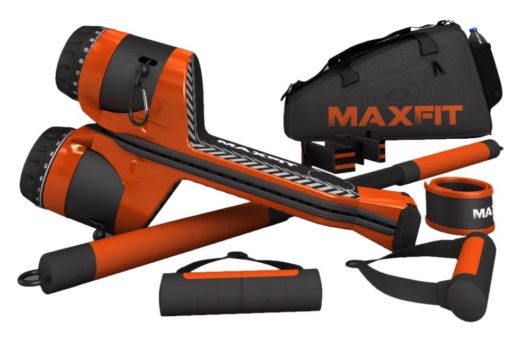 Nezar Akeel created his MaxPro portable gym after designing things for other companies for years. He wanted a portable gym with a "minimalist design theme" that would offer all the workouts you can get in a gym and still fit in a back pack. In 2019, after four years in development, he got the business started with $213,676 he raised on KickStarter. The company claims this little machine can give you all the workouts you'd find in a gym.
It works as a cable resistance machine, just like the ones at the gym. Depending on how you set it up, it can recreate all the workouts. The way it works is with its patented power clutch that lets you dial the resistance levels from 5 to 300 pounds. It's easy to use, too: just step on it, set the resistance level, pick a grip (it comes with with a 3-part barbell, 2 handles, and two ankle/wrist straps) and lift away. You can also purchase an optional bench and wall rack to make changing workouts even easier. There's an accompanying free app that comes with it and it's chock full of workouts designed specifically for the Max Pro.
At around $900, it's relatively affordable compared to other home gym equipment. Its size makes it great for people who don't have a lot of space, too. With more people realizing they need to be more fit but without a gym membership, it's a great product. It must be – since they started, they have around $10 million in sales! They likely want a Shark's help managing growth when they pitch in episode 1311. Will a Shark give this business a lift?
My Take on MaxPro
Two years ago, our oldest two kids – one of whom does powerlifting – collaborated and got us some very nice free weights and an accompanying bench. We set it up in our utility room. The problem is it takes up a lot of space. A MaxPro would have been a better solution, but we didn't know about it then.
There's a lot to like about this product. You can take it with you wherever you go and you don't need a room dedicated to a home gym. You can use it just about anywhere. It looks cool, too. I am in.
Will Shark Weigh Their Options and Invest?
With solid sales numbers, this could attract some interest if the valuation is good. Lori likely won't go for it though, she usually doesn't go for this sort of thing. The same with Kevin. It competes with PRX, a weight rack system he invested in in season 7. Robert is into fitness, so he could make an offer. Mark could also see the big picture and make an offer as could Daymond.
Even if a Shark makes an offer and an on air deal is done, I don't think it'll go through. The reason is they have other investors. Shaquille O'Neal invested in the company in the fall of 2021. If MaxPro can get investors like that, they don't need a Shark!